4.7-Inch and 5.5-Inch iPhone 6 May Launch Simultaneously
Both the 4.7 and 5.5-inch iPhone 6 models are set to go into production next month, according to Bloomberg, and Apple may launch both sizes of the new device at the same time.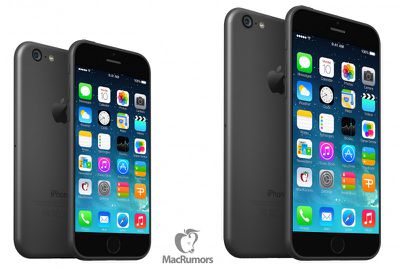 Apple is ramping up on two bigger-screen iPhones, said the people, who asked not to be identified because the plans are private. One model will have a 4.7-inch screen that may be available to ship to retailers around September, said two of the people. A larger 5.5-inch version is also being prepared for manufacturing and may be available at the same time, the people said.
Previously, reports indicated that issues with battery life and display technology for the 5.5-inch iPhone 6 may have caused Apple to delay the release of the larger version of the phone a couple months after the release of the 4.7-inch model. However, a report earlier this month said that Apple had solved the battery issues, though it wasn't apparent whether the 5.5-inch model would launch at the same time as the 4.7-inch model.
Apple and its manufacturing partners have been ramping up for the launch of new iOS devices later this year, with Foxconn
hiring a record new 100,000 employees
to help assemble iPhone 6. Pegatron is also set to assist in the production of the new iPhones, with reports claiming Pegatron's production share could be as little as
15%
to as large as
50%
.
Stock of the 5.5-inch iPhone 6 is likely to be lower than the 4.7-inch model, mostly due to the more complex manufacturing of the phone and the need for an increase in production efficiency for the device before the manufacturing volume for it can be increased.