Apple Facing Production Issues with iPhone 6 as 5.5-Inch Version May Be Delayed Until 2015
The launch of Apple's 5.5-inch iPhone 6 may be delayed into 2015 as Apple's production issues with the smaller 4.7-inch version will likely carry over into the larger model, according to a new report from KGI Securities analyst Ming-Chi Kuo.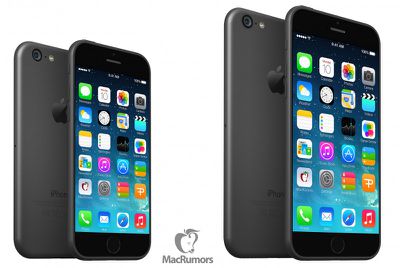 Production bottlenecks on 4.7-inch iPhone 6 center on the yield rate of in-cell touch panel and metal casing. As in-cell touch panel becomes larger in size, the edge of the panel may become insensitive to touch. Meanwhile, under new manufacturing process for the iPhone 6 metal casing, color unevenness is an issue.
Kuo adds that these problems become more complicated with the larger 5.5-inch iPhone 6. As these new concerns are coupled with earlier concerns about the production of sapphire displays for the larger device, the analyst believes that the 5.5-inch iPhone 6 may not launch by the end of 2014, or may launch after October in very limited quantities. In the event that the 5.5-inch iPhone 6 is delayed to next year, Kuo believes that Apple will cut the prices of the iPhone 5s and iPhone 5c alongside the launch of the 4.7-inch iPhone 6.
Early rumors about the 5.5-inch iPhone 6 pointed towards production issues with the device's display and battery life. However, a report from Bloomberg last month noted that both models would enter production and launch at the same time. Concerns over the metal casings used for the iPhone 6 were also reported late last month, as Apple rejected casings from partner Catcher Technology. However, those issues were said to be over parts found within the casings as opposed to color disfiguration mentioned in this latest report.
Apple is expected to announce and launch the iPhone 6 in September. In addition to a larger screen, both models of the device are expected to include a thinner profile and a faster A8 processor. Both sizes of the iPhone 6 are also expected to feature improved cameras, with the bigger model featuring an optical image stabilization system, while the smaller one will include an enhanced camera module.