Apple to Announce More Plans for iBeacon Technology at WWDC 2014
Apple will unveil more plans for its iBeacon technology at the start of this week's WWDC 2014, reports The Wall Street Journal. In addition to new details about the technology, the company will promote iBeacon by placing transmitters throughout the Moscone Center while offering sessions for developers on how to better implement the technology into their apps and services.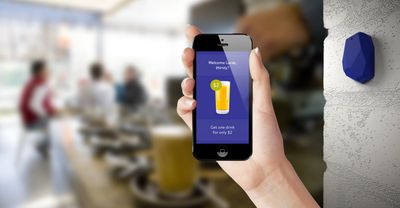 It is not known what exactly Apple has in store for the technology, but it is possible that the company could announce a more prominent role for iBeacons in iOS 8, new partnerships with companies, and more. iBeacons could also see integration in Apple's highly rumored mobile payment service.
First introduced during last year's WWDC, iBeacons enable iOS devices to wirelessly communicate with physical beacons through Bluetooth, as the transmitters are able to deliver relevant information to apps and services when a user is physically nearby. Apple implemented a new iBeacon "Made for iPhone" specification in February, signaling a more significant role for the technology in its devices.
iBeacon technology has also been used by a number of companies in a variety of ways since the end of last year. Shopping app Shopkick and Macy's partnered to integrate the technology into stores to assist consumers, while Major League Baseball and the National Basketball Association have used the technology to provide enhanced live experiences.
Apple has also implemented iBeacons into its own retail locations to deliver messages about picking up online orders and store events, although early experiences with the technology were mixed. The technology has also been featured in the UK, where a cafe and London's Heathrow Airport have integration iBeacons to notify users of promotional deals.
In addition to new details about iBeacon at WWDC 2014, Apple is also expect to unveil iOS 8, OS X 10.10, a new home automation platform, and perhaps some new hardware.
Apple will be live streaming the event both on its website and on the Apple TV. MacRumors will also be providing a live blog, live tweets via the MacRumorsLive Twitter account, and a spoiler free page for those who want to watch the full keynote at a later time.