Apple Regains Market Share in Some Countries with Strong iPhone 5s Sales
Research firm Kantar Worldpanel has released a new report (via TechCrunch) highlighting worldwide smartphone sales over the January-March period, finding that Apple has regained share in markets such as Europe, Japan and Australia due in part to the strong sales performance of the iPhone 5s.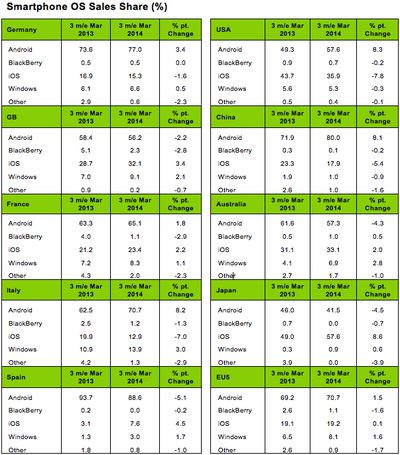 Dominic Sunnebo, strategic insight director at Kantar Worldpanel ComTech, comments: "Apple regained ground in the first quarter of 2014, primarily due to the strong performance of the iPhone 5S, growing its sales share in Europe, Japan and Australia. By contrast, Windows had a tough start to the year as a result of its entry-level Nokia models facing fierce competition from low-end Motorola, LG and Samsung Android smartphones."
Apple's total market share in Japan, Australia, and Europe hit 57.6%, 33.1%, and 19.2%, which are increases of 8.6%, 2.0%, and 0.1% compared to the same timeframe last year, respectively. In the United States, Apple's market share was at 35.9%, which was down 7.8% compared to the 43.7% market share it held a year ago.
However, Sunnebo noted in a prior Kantar report highlighting smartphone sales over the August-October 2013 period that customers in the U.S. generally react better to "full releases" like the iPhone 4 and iPhone 5 than "incremental" updates such as the iPhone 5s and the iPhone 5c. Apple is expected to release a larger-screen iPhone 6 this year with new features including a thinner profile, faster A8 processor, Touch ID fingerprint sensor, and an improved camera with optical image stabilization.
Meanwhile, the iPhone's surging popularity in Japan has continued in the months following its debut on the country's largest carrier, NTT DoCoMo:
Sunnebo continues: "Japan's love affair with Apple shows no sign of fading. Even though the iPhone has now been available on Japan's largest carrier, NTT DoCoMo, for a number of months Apple still accounts for more than 40% of sales on the network. The success of the iPhone is also filtering through to the iPad, with almost a quarter of Japanese iPhone owners also owning an iPad. With smartphone penetration in Japan lagging well behind Europe and the US, Japan will remain a key growth market for Apple."

Despite its solid market share in numerous countries however, the iPhone continues to face challenges from Google's Android platform, which had its market share continue hover above 70% in many markets. Microsoft's Windows Phone also increased its market share, with the platform even holding a 4.3% advantage over iOS in Italy.