iPhone 5c Broadens Apple's Customer Base, but Android Continues to Lead in Smartphones
Research firm Kantar Worldpanel has released a new report (via TechCrunch) highlighting global smartphone sales over the August-October period, finding that Apple's market share in most regions is unsurprisingly now higher when compared to the months leading up to the release of the iPhone 5s and iPhone 5c. Apple's share is, however, lower when compared to the prior-year period with the iPhone 5 launch.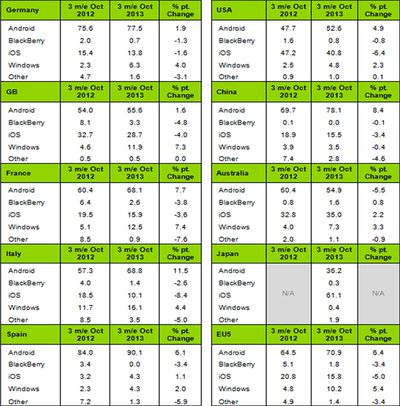 Dominic Sunnebo, strategic insight director at Kantar Worldpanel ComTech, comments: "In almost all markets, the iPhone 5S and 5C releases have given iOS a significant bounce compared to the previous month. Generally, Apple's share of the market still remains lower than when the iPhone 5 was released, although this is not wholly unexpected as shoppers tend to react more positively to 'full' releases than incremental improvements such as the 5S and 5C.
Apple's total market share in the U.S. hit 52.8% during October, with the report attributing the overall growth during the 12-week timeframe to the appeal of the cheaper iPhone 5c and noting that half of all iPhone 5c owners had switched from competiting brands:
"The cheaper 5C appeals to a broader audience than Apple usually attracts. In the US, the biggest demand for these mid-end models is coming from lower income households. Some 42% of iPhone 5C owners earn less than $49,000 compared with just 21% for iPhone 5S. iPhone 5C customers also tend to be slightly older at an average of 38 years compared to 34 years for the 5S. The good news for Apple is that this wider appeal is attracting significant switching from competitors. Almost half of iPhone 5C owners switched from competitor brands, particularly Samsung and LG, compared with 80% of 5S owners who upgraded from a previous iPhone model."
While the iPhone continues to enjoy strong market share in the U.S., it also continues to face challenges in mainland Europe and China, where Android's market share is around 70% or even higher in many countries. Apple has, however, had more success in Japan, where the addition of NTT DoCoMo as a carrier partner helped the iPhone garner 76% of the market in October and 61.1% for the broader August-October period.