Aftermarket CarPlay Support Faces Technical Hurdles, Uncertain Future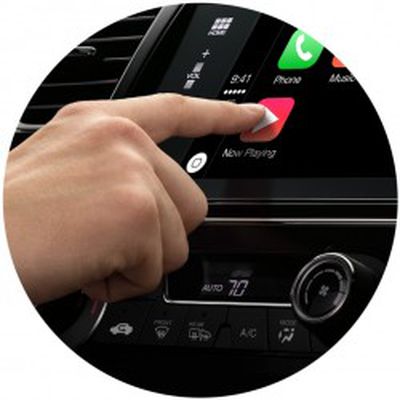 While a recent report from a customer service representative indicated that Pioneer was exploring the possibility of bringing support for Apple's new CarPlay iPhone vehicle integration to third-party dashboard systems and Mercedes-Benz acknowledged efforts to bring extend support to its own older vehicles, it appears that full support will take some time to appear given challenges involved in the implementation.
AppleToolbox spoke with both Volvo and Ferrari, two of Apple's launch partners for CarPlay, and both manufacturers acknowledged that extending compatibility to older vehicles would be difficult, with Ferrari ruling out the possibility and instead promoting its alternative phone integration systems.
The new system CarPlay is available only on new range cars and cannot be installed on older ones. However, since we know that infotainment solutions are really important for our customers and also owners of older vehicles deserve the same care as all other customers, we developed an AfterMarket product aimed at offering last generation infotainment, completely compatible with most recent phones.
Volvo does not appear to have ruled out older model support for CarPlay entirely, but acknowledges that it would be difficult for the company to add that support.
We have not announced any plans for an aftermarket solution for Apple CarPlay. While I cannot reveal any potential future products, I can say that there are major roadblocks for this, both from a technical as well as from a usability point-of-view.
And despite Pioneer's statement of interest earlier this week, which the company backed away from in a statement to AppleInsider, other third-party manufacturers are expressing reservations about whether they will even pursue CarPlay support. In an email to MacRumors, a Kenwood representative indicated that the firm would be "looking at" CarPlay but that adoption is not imminent.
I can tell you Apple CarPlay won't be in any of our 2014 product. We will be looking at this operating system along with Google's.

I haven't had any discussions with our engineers regarding Apples willingness or unwillingness to extend into aftermarket.

Currently our [radios] support many of the features found on Apple CarPlay including SIRI control, AV content and even Navigation Apps, so perhaps this interface will have more of an impact with OEM systems that lack that kind of connectivity?
It's clear that there remain a number of unknowns regarding CarPlay, and it seems that Apple has not kept third-party manufacturers abreast of its plans. As a result, it may yet be some time before those manufacturers can have proper discussions with Apple and explore just what it would entail to add CarPlay support to their products.