CarPlay Integration May Be Possible in Older Vehicles, Mercedes-Benz Working on Aftermarket Solution
Apple's CarPlay feature, introduced earlier this week, may be able to be installed in older vehicles, according to new information from Mercedes-Benz. The car company has told 9to5Mac that it is working on "an after-market solution for previous cars," that would allow CarPlay to function in older models.
We've confirmed that at least Mercedes-Benz is looking into aftermarket installations of CarPlay that will allow older models of vehicles to access the feature. While the company confirmed that it is trying to get an "an after-market solution for previous cars" it couldn't confirm when the option might become available. While there is no info yet on how the aftermarket installation would work, we'd imagine it will be a dealer installed accessory for select older models like Honda and others already offer for Apple's Siri Eyes Free feature.

While it is unclear how an aftermarket solution might be implemented, information uncovered earlier this week indicates that CarPlay works in conjunction with BlackBerry's QNX car operating system. The QNX Car Platform is what powers many of the existing in-car infotainment systems installed in a wide variety of automobiles.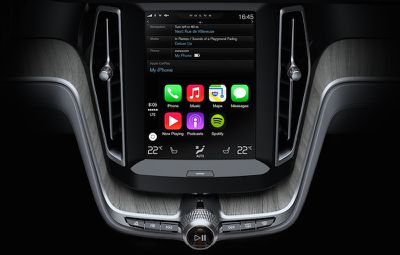 CarPlay can be likened to Apple's AirPlay, utilizing in-car infotainment systems to mirror the iPhone's display and functionality, which indicates that it is a technology that can possibly be installed in older vehicles as well as new ones. It will be up to both individual manufacturers and Apple to decide whether aftermarket options will be available for older cars, however. Mercedes-Benz is thus far the only manufacturer that has indicated an aftermarket solution might be possible.
The majority of CarPlay's functionality is supplied by the iPhone, including Siri voice control, Maps and GPS and access to features like messages, phone calls, and third-party apps. While CarPlay does currently require a hardware interface and a wired connection in the form of a Lightning connector, Volvo has indicated that Wi-Fi connectivity is coming in the future.
At the current point in time, CarPlay has only been demoed in cars from Volvo, Ferrari, and Mercedes-Benz, but Apple has struck deals with several other manufacturers including Honda, Ford, GM, Jaguar, and Hyundai, all of which are expected to launch vehicles with CarPlay support in 2014.
Update 1:32 PM: Mercedes-Benz has clarified that its "goal is to offer an after market solution by the end of the year."