Pioneer Working on Aftermarket CarPlay Compatibility
Pioneer Electronics, a company that manufacturers many in-car electronic systems, is looking into the possibility of implementing CarPlay compatibility with both its existing and future products. The news comes courtesy of a Pioneer customer service representative and was relayed to MacRumors via a reader.
Introduced in early March, CarPlay is Apple's iOS vehicle integration system that allows an iPhone to take over the in-dash display of a car, providing Siri-controlled voice access to features like Maps, phone functions, messages, and music.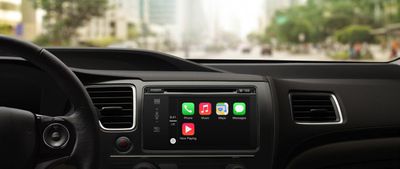 While the service initially debuted solely in new cars from Ferrari, Mercedes-Benz, and Volvo, it appears CarPlay could be introduced into a wide range of existing vehicles through Pioneer, which offers aftermarket navigation and audio systems for cars.
Because Apple has thus far only announced CarPlay partnerships with specific car manufacturers for new 2014 models, it has been unclear whether the service is compatible with older vehicles. CarPlay does, however, work in conjunction with BlackBerry's QNX Car Platform, which is used to power many existing in-car infotainment systems installed in a wide variety of automobiles, suggesting aftermarket solutions are indeed a possibility.
Mercedes-Benz, one of Apple's official CarPlay partners, has also indicated that it is working on aftermarket installations, but Pioneer's potential solution is more promising as it would be available in a wider range of existing vehicles.
Apple has officially announced deals with several different vehicle manufacturers including Honda, Ford, GM, Jaguar, and Hyundai, in addition to Volvo, Ferrari, and Mercedes-Benz, but it appears the company is also striking deals with accessory manufacturers like Pioneer, suggesting CarPlay could be widely distributed to vehicle owners over the course of the next few months.
(Thanks, Matt!)