AT&T Hits Back at T-Mobile with Up to $450 in Credits for Switchers
Over the past year,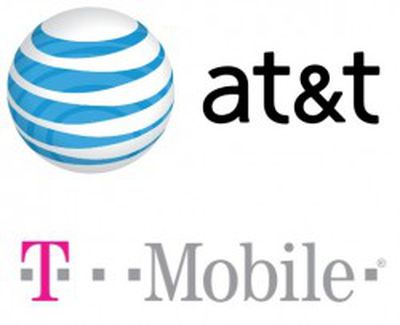 T-Mobile US has been shaking up the U.S. carrier market with its "Un-carrier" plans, the addition of the iPhone to its device lineup, and a frequent device upgrade program, enticing several other major carriers to make changes to their own services to align with T-Mobile's offerings.
Going beyond recent moves to uncouple device and service costs as T-Mobile has done, AT&T today announced that it is offering up to $450 in credits for customers switching to the carrier from T-Mobile. The offer consists of two parts: up to $250 for trading in their current smartphone as part of the carrier's usual trade-in plan and an additional $200 for transferring their wireless service to AT&T.
Beginning Jan. 3, under the limited-time offer, T-Mobile customers who switch to AT&T can trade-in their current smartphone for a promotion card of up to $250, which can be used toward AT&T products and services. Trade-in values will vary based on make, model and age of the smartphone, but many of the latest and most popular smartphones will qualify for a value of $250. T-Mobile customers can receive an additional $200 credit per line when they transfer their wireless service to AT&T and choose an AT&T NextSM plan, buy a device at full retail price or activate a device they currently own.
Last month, AT&T CEO Randall Stephenson noted that the long-standing U.S. wireless business model of carriers providing device subsidies in exchange for service contracts is no longer economically feasible. By uncoupling device costs from service, carriers believe they can offer customers more flexibility when it comes to deciding about device upgrades while still allowing customers to spread out their significant hardware costs through payment plans.
Following last year's series of Un-carrier announcements from T-Mobile, the company is set to announce the next stage of its program next week at CES. Details have yet to surface, but hints and rumors have suggested that the carrier may be making some changes to encourage family plan users to switch carriers, perhaps through subsidizing early termination fees imposed by other carriers.
The future of T-Mobile does, however, remain up in the air, as parent company Deutsche Telekom has been looking to exit the U.S. market. Following a failed attempt by AT&T to acquire T-Mobile US in 2011, Sprint has been reported to be mulling its own offer for T-Mobile that could allow the combined carrier to rival the much larger Verizon and AT&T.
Update: In an email to Re/code, T-Mobile CEO John Legere calls AT&T's new offer a "desperate move".
"This is a desperate move by AT&T on the heels of what must have been a terrible Q4 and holiday for them," Legere said in an e-mail to Re/code. "Consumers won't be fooled… nothing has changed, customers will still feel the same old pain that AT&T is famous for. Just wait until CES to hear what pain points we are eliminating next. The competition is going to be toast!" [...]

"We used AT&T's cash to build a far superior network and added 'un-carrier' moves to take tons of their customers – and now they want to bribe them back," Legere said. "I'm flattered that we have made them so uncomfortable!"
Update 2: T-Mobile has published a similar version of Legere's statement.