Apple Offering 32-Inch 4K Sharp Displays in European Online Apple Stores [Updated]
In its European Apple Online Stores, Apple has begun offering a 32-inch Sharp "4K" Ultra HD LED monitor. Retailing for £3,499.00 or approximately $5,700, the monitor has been available in the U.K. and other European countries since on or before November 30.
The 32-inch IGZO display, which has a resolution of 3840 x 2160, is not available in the United States and it is not clear why Apple has decided to offer it solely in Europe for the time being.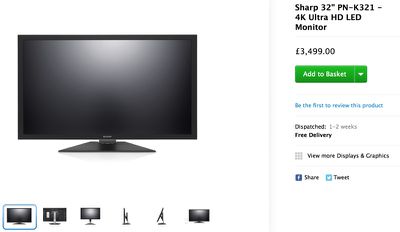 With its 32-inch class (31.5-inch diagonal) screen size, 3840 x 2160 high definition resolution and energy efficient edge-lit LED backlight, the Sharp PN-K321 monitor is ideal for professional applications where it's essential to view detailed information displayed with precision. This super-high resolution display allows you to view the content of four full HD screens on a single seamless display. It also features IGZO* technology, which supports increased pixel transparency and reduced current leakage, thereby making the monitor more energy efficient.
Sharp's LED display offers a 1.07 billion color palette, an 800:1 contrast ratio, and 350cd/m2 brightness. While it does come with DisplayPort support, it does not come with a Mini DisplayPort to DisplayPort adapter and will require users to purchase a third party adapter.
The appearance of the Sharp display in Apple's Online Store comes amid rumors that Apple is preparing its own 4K displays. Earlier this month, new display panels with DisplayPort appeared from AUO, sparking speculation that they could be used by Apple for a future 4K Thunderbolt display.
Dell debuted its own 4K Ultra HD displays earlier this week, offering a 32-inch model for $3,499, and a 24-inch model for $1,399. Dell also has a sub-$1000 28-inch model in the works for 2014, and as Apple and Dell have historically used the same panel supplier, Dell's offerings may provide an early look at what to expect when Apple does release its 4K displays.
Apple's recently refreshed Retina MacBook Pros are able to support a single 4K monitor and the upcoming Mac Pro is able to support up to three 4K displays. The Mac Pro may be on or near December 16, according to a German retailer that began taking pre-orders ahead of the product's launch, but it remains unclear when Apple might debut an updated Thunderbolt Display.
Update: Apple has removed the Sharp display from its online stores.