24-Inch 4K Display from Dell Priced at $1399, 28-Inch 4K Model Coming at Under $1000
Following the initial revelation of some details on a new 24-inch 3840 x 2160 "4K" Ultra HD display from Dell yesterday, the company has now officially announced that the display launches today in the Americas with a $1399 price tag. A 32-inch model at the same resolution is also available for $3499, while Dell will be introducing a 28-inch 4K display in early 2014 with breakthrough pricing of under $1000.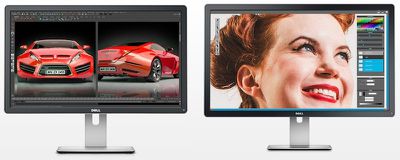 24-inch UP2414Q (left) and 32-inch UP3214Q (right)
All three displays carry the same 3840 x 2160 resolution, giving them varying pixel densities ranging from 140 pixels per inch (ppi) on the 32-inch model to 157 ppi on the upcoming 28-inch model and 185 ppi on the 24-inch model.
The flagship Dell UltraSharp 32 Ultra HD Monitor delivers stunning screen clarity and detail with Ultra HD 3840 x 2160 resolution and high pixel density on an expansive 31.5-inch screen. Dell's largest monitor allows for easy multi-tasking and viewing multiple applications side by side, and its ultra-wide viewing angle ensures that images and colors remain consistent regardless of the perspective. Designed for graphic designers, video and game developers, CAD/CAM designers, engineers, photographers and other power users, the Dell UltraSharp 32 Ultra HD Monitor provides an exceptional, high performance viewing experience.

With the same remarkable, pin-point clarity, the Dell UltraSharp 24 Ultra HD Monitor, users can enjoy color consistency and precision from virtually any angle thanks to an ultra-wide viewing angle on a 28.3-inch screen. The UltraSharp 24 Ultra HD Monitor allows customers to see more and do more with uncompromising picture quality that facilitates multi-tasking on a screen that delivers four times more data than a Full HD monitor.
Both the 24-inch and 32-inch displays support refresh rates of 60 Hz over DisplayPort 1.2 and 30 Hz over HDMI, as well as a variety of ports including HDMI, DisplayPort, Mini DisplayPort, four USB 3.0 ports, and a media card reader. Both displays also offer height, tilt, and swivel adjustments.
Exact details on the upcoming 28-inch model have yet to be released, but Dell says that it will offer "the same incredible Ultra HD screen performance" as the other members of the 4K display family and will carry multiple input ports for flexible connectivity.
Dell's new 4K displays arrive just as speculation regarding a potential 4K display from Apple has escalated ahead of the launch of the new Mac Pro later this month. Apple touts the new Mac Pro as being able to drive up to three 4K displays, but the company has not made any announcements about its display plans. The recent introduction of new 4K display panels from AU Optronics fueled speculation that Apple could be nearing an introduction for new displays, but Dell's displays may be the strongest hint yet that Apple may have something in the works given the two companies have typically used the same panel suppliers for their displays.