New Display Panels from AUO Spark Speculation of 4K Apple Displays
When Apple gave its full unveiling of the new Mac Pro at last month's media event, many observers were disappointed that the company did not also announce new higher-resolution displays to complement the radically redesigned professional desktop, which Apple touts as being able to support up to three 4K displays simultaneously.
But the recent introduction of new 27-inch and 32-inch 4K display panels from AU Optronics (via Reddit and AmongTech) is sparking speculation that Apple could yet have a display announcement in the relatively near future. Both panel sizes offer 4K resolution of 3840 x 2160 pixels, which could use the new Thunderbolt 2 connectivity standard to support either much larger desktops than with the 2560 x 1440 resolution of the current Apple Thunderbolt Display or high-quality "Retina" sharpness at an equivalent of 1920 x 1080.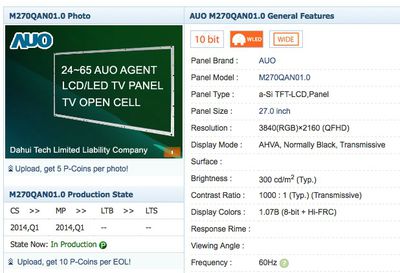 Apple currently uses well-regarded LG panels in its Apple Thunderbolt Display, and it is unclear if the new panels from AU Optronics will meet Apple's exacting quality standards. Still, many have been looking for technology that would even allow Apple to offer a 4K display alongside the Mac Pro, and the new AU Optronics panels using the embedded DisplayPort (eDP) signaling standard embraced by Apple appear to be a significant step in that direction.
Even if Apple were to launch 4K displays using these panels, timing remains unclear as Panelook listings for the new panels indicate that they are "in production" but with customer sampling and mass production not scheduled until the first quarter of next year.
Also in question is whether Apple would even use 16:9 3840 x 2160 panels for a 4K display, as some have suggested that the company may prefer to push Thunderbolt 2 to its limit and support the wider 4096 x 2160 "Cinema 4K" standard given that the display will undoubtedly be targeted at professionals, many of whom in the film industry will be working with content using that resolution standard adopted for film production.