Apple's Stock Hits New 52-Week High as Roller Coaster 2013 Nears Its End
With just a few weeks left in 2013, Apple's stock has finally rebounded to set a new 52-week high of $575.14 earlier today, although it has since pulled back by a few dollars. Apple's stock price peaked at just over $700 back in September 2012 before beginning a slide that took the price to under $400 by mid-April of this year.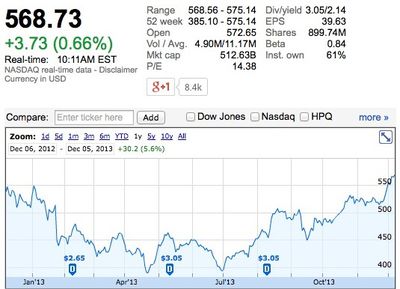 Apple's march back to yearly highs began in late June and has been a fairly steady climb since that time, although the last two weeks have been particularly good for the company's stock with a roughly 10% increase over that time as investors have been buoyed by new product releases and optimism surrounding Apple's Black Friday weekend sales.
The company's stock price has undoubtedly also been boosted by a stock buyback program that has seen Apple take roughly 5% of its shares off of the market since late 2012. Some argue that Apple should be doing even more to repurchase its stock, believing it to remain undervalued and thus a cheap investment for the company. Just yesterday, activist investor Carl Icahn, who holds roughly $2.5 billion in Apple stock, announced that he has filed paperwork requesting that shareholders be included in an advisory vote encouraging the company to increase its buyback plan by an additional $50 billion.