Exterior Decorations at Yerba Buena Center Nearly Complete Ahead of October 22 Event
Apple is making considerable progress on its project started yesterday to cover the glass facade of the Yerba Buena Center for the Arts in San Francisco with decals bearing a colorful design and a white Apple logo, with new photos from David Jones showing the project wrapping around two sides of the building now nearly complete.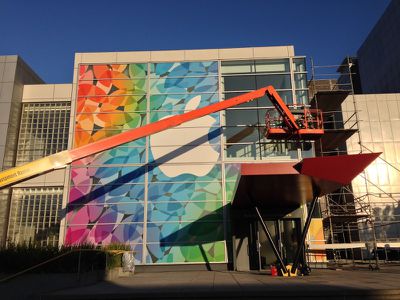 Click for larger
Apple's event kicks off next Tuesday, October 22 at 10:00 AM Pacific Time and the company is expected to
introduce a number of new products
including both hardware and software. New iPads are expected to be a major focus of the event, but OS X Mavericks, Mac Pro, and other products will also be addressed.

Click for larger