Expectations for Apple's October 22 Event: iPads, Mac Pro, and More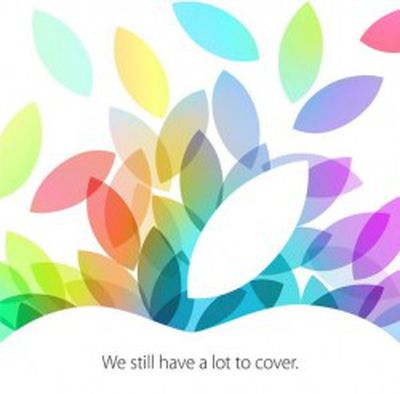 With just four days to go until Apple's October 22 media event in San Francisco, expectations for what will be shown are in many cases continuing to firm up, while in other cases questions remain. Our regularly updated Roundups section continues to offer a good overview of what is expected for each product and highlights the significant number of Apple products due for updates. Among the expectations for next week:
- iPad: Expect a new iPad mini-inspired design that is thinner, narrower, and lighter. [Read More]
- iPad mini: Retina display expected, but there have been questions about production and whether Apple be able to ship the new device in significant quantities, if at all, before the holidays. [Read More]
- OS X Mavericks: Reportedly due for launch before the end of the month, we should see a final unveiling next week. Other software updates including new versions of Apple's iWork and iLife suites, including iWork for iCloud, are also expected. [Read More]
- Mac Pro: Announced by Apple as launching "this fall" following a sneak peek at WWDC in June, Apple's radically redesigned professional desktop should get a thorough introduction next Tuesday. Some have speculated that updated displays may arrive to complement the new Mac Pro, but there has been no specific evidence of a display refresh. [Read More]
- MacBook Pro: An update for Apple's Retina MacBook Pro line has been expected for several months, moving to Intel's new Haswell processors for improved battery life. While it seems that Apple would want to feature the MacBook Pro improvements at its event, the list of products to be covered is beginning to get rather long and so it is unclear if the updated notebooks will make an appearance at or alongside the event or at a separate time. [Read More]
- Mac mini: There have been no specific rumors about the Mac mini, but it too is due for an update to Haswell processors. [Read More]
- An Apple TV wildcard: There have been some rumblings over the past several months that Apple is planning some sort of TV-related announcement for late this year, but there has been no concrete evidence of any imminent introduction. While Apple has been said to be planning its own connected television set product, that product may not be ready and the effort could continue to progress incrementally with an updated set-top box.