No New Apple TV Coming Next Week, But Apple Will Upgrade Software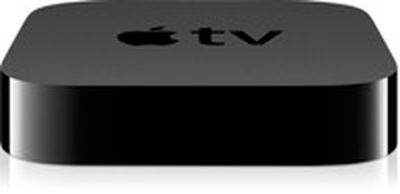 Apple will not be debuting a new version of its Apple TV at next week's iPhone event, reports AllThingsD. Earlier this week, a "mysterious" set top box shipment from a new supplier suggested Apple could be planning to introduce an upgraded Apple TV, but it appears that the shipment likely consisted of existing hardware rather than a new product.
Despite speculation about new Apple TV hardware on the way, Apple won't be unveiling any new boxes next week, according to people familiar with the company's plans.

That said, the company will be tweaking the software inside its Web TV box. Apple has already said that it will be bringing its new iTunes Radio service to Apple TV. And it has been adding new content partners, including Disney and HBO, throughout the summer.
While testing beta versions of Mavericks and iOS 7, Apple has also been testing new Apple TV software. The 5.4 Apple TV update includes support for iTunes Radio and it also allows users to purchase music from the iTunes Store on the Apple TV. In addition, it includes a "Conference Room Mode" for business and academic settings, easier setup options, and multi-display support.
AllThingsD suggests that other software changes will be introduced as well, including a new AirPlay feature.
Sources say that one new feature in the works will let people who've bought content from Apple play that stuff on other users' Apple TVs, via Apple's Airplay system. So if you've bought a TV show or movie from Apple's iTunes store, you could watch it at a friend's house, by calling it up on your iPhone, and telling your friend's Apple TV to start streaming it.
Over the past several months, Apple has been working to fortify its Apple TV offerings and has introduced a number of new channels. WatchESPN, HBO GO, Sky News, Crunchyroll and Quello were added in June, and in August, Apple debuted new channels for Vevo, the Smithsonian, and Disney. Deals with TWC and The CW are also said to be in the works.
Apple's Apple TV update will likely debut alongside iOS 7, which is expected to be released to the public sometime after the September 10 iPhone event.