Apple Close to Completing Apple TV Deal with Time Warner Cable
According to a report from Bloomberg, Apple and Time Warner Cable are close to completing a deal that will bring a TWC app to the Apple TV.
A potential partnership between the two companies was first announced in early June, when Time Warner Cable CEO Glenn Britt told investors that the company was in talks with Apple, Samsung, and Microsoft over streaming video deals that mirror the Time Warner Cable's existing partnership with Roku.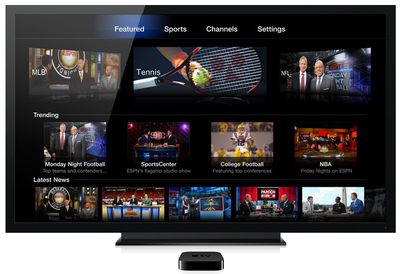 The TWC TV app available on the Roku set-top box allows Time Warner Cable subscribers to watch up to 300 live TV channels with any TV connected to a Roku. An Apple TV app would likely operate in the same way, providing cable access and live television channels to Time Warner subscribers without the need for a cable box.
Apple has been slowly expanding the content available on its Apple TV as rumors of a potential revamped set-top box or Apple-branded television set continue to gain traction. Earlier this month, the company debuted several new Apple TV channels including WatchESPN and HBO GO, both of which offer content on the Apple TV to existing cable subscribers. Apple is also said to be in talks with CW about a potential Apple TV app.
To complete the current negotiations with Time Warner Cable, Apple is said to be hiring Pete Distad, Hulu's former senior vice president of marketing and distribution. While no specific timeline is available for the release of the TWC content, a deal is expected to be announced "within a few months."