Apple Adds WatchESPN, HBO GO, Sky News, and More to Apple TV
Apple today announced a software update for its Apple TV set-top box adding new channels including WatchESPN and HBO GO. The update also brings live streaming of the UK's Sky News, as well as anime site Crunchyroll and music concert and documentary streaming service Qello.
"HBO GO and WatchESPN are some of the most popular iOS apps and are sure to be huge hits on Apple TV," said Eddy Cue, Apple's senior vice president of Internet Software and Services. "We continue to offer Apple TV users great new programming options, combined with access to all of the incredible content they can purchase from the iTunes Store."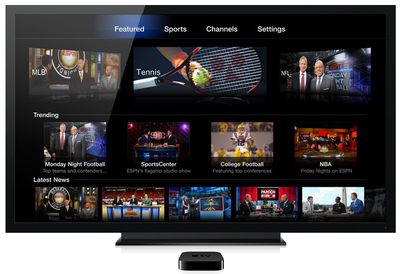 WatchESPN and HBO GO require that customers be subscribed to appropriate cable TV services, while Sky News offers free live streams and numerous video clips to users in the US, UK, and Ireland.
Crunchyroll offers a free 7-day trial to its Anime service, with subscriptions priced at $6.99/month. A more extensive All-Access membership is available for $11.99/month. Qello offers a free 7-day trial to its service, with subscriptions priced at $4.99/month for unlimited access to its library of concerts and music documentaries.
It was reported over a year ago that Apple was in talks to bring WatchESPN to the Apple TV, while claims of HBO GO talks surfaced earlier this year.
The update arrives as Apple TV software version 5.3 and is available now for the second- and third-generation Apple TV.
As part of its press release, Apple also disclosed new statistics on iTunes Store video usage, noting that users have purchased over a billion TV episodes and 380 million movies, with current rates of over 800,000 TV episodes and over 350,000 movies per day.