CW Strikes Deal with Apple to Bring Content to Apple TV
The CW has struck a deal that will bring the network's content to the Apple TV, reports Deadline. At the company's annual Upfront Presentation in New York today, CW president Mark Pedowitz announced that the CW's TV Now applications, which are currently available on Xbox 360 and Windows 8, will be coming to the Apple TV as well.
"This year we're reaching more viewers on more platforms," said Pedowitz, speaking of the deal. "We are reaching our audience everywhere they are, and we want you to be with us everywhere we go," he went on to say to advertisers at the event.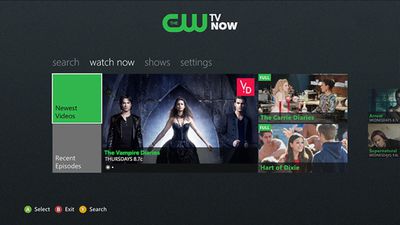 The CW told MacRumors that the app will function similarly to the company's Xbox and mobile apps and confirmed that it will indeed be an app located on the Apple TV's home screen.
It's a dedicated CW app that will work like our Xbox and mobile and tablet apps - no cable authentication required, full episodes of our shows available next day after air, ad-supported.
The CW's TV Now app for the Xbox offers free full streaming episodes of network shows like The Vampire Diaries with limited advertising. The app also includes additional content like previews and cast extras. Currently, Apple sells CW content through its iTunes store.
While the Apple TV offers apps and digital content from sites like Netflix and Hulu, it does not include apps from television networks. The partnership between the CW and Apple will mark the first network television app available via the Apple TV.
It is unclear if the CW's app is part of a larger initiative by Apple to bring additional apps to the Apple TV. The CW is a joint venture between Warner Bros. Entertainment and CBS, one of the biggest U.S. broadcast networks.
According to the CW, the app is set to launch in the coming weeks, though no exact release date was given.