Mysterious 'Set Top Box' Shipment Records Hint at Refreshed Apple TV Coming Soon
Apple might be planning to unveil an upgraded Apple TV or similar television-related product at its upcoming September 10 iPhone event, according to global trade intelligence platform Panjiva (via GigaOM).
The company has shared three bills of lading from the U.S. Department of Homeland Security that show Apple accepted three shipments labeled as "Set Top Boxes" during the month of August from one of its suppliers, BYD Precision Manufacture in Shenzhen, China.
On August 25th, Apple received a shipment described as "Set Top Box with Communication Function" from BYD Precision Manufacture in Shenzhen, China.

On August 18th, Apple received another shipment, again from BYD, described as "Set Top Boxes."

And on August 11th, Apple received its first shipment from BYD of "Set Top Box with Communication Function."
The shipments, received on August 11, 18, and 25, ranged in size from seven to 18 tons. Though the weight of the shipments were recorded, no information about the size or the dimension of the contents were noted, nor was a model number offered, so it is unclear what the boxes contain. An existing Apple TV weighs approximately one pound, which means the three shipments could contain approximately 90,000 Apple TVs.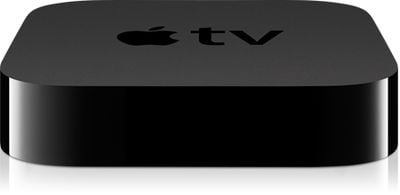 According to Panjiva, Apple last received a "set top box" shipment in December of 2012 from Foxconn, which turned out to be a shipment of the third-generation Apple TVs with a model number of A1427. It seems, however, that there may be missing records as Apple reported selling more than two million Apple TVs during the holiday quarter of 2012, likely necessitating regular shipments of the product.
Based on the historical lack of shipment records and the total size of the received shipments, it is unclear whether the records shared by Panjiva hint at a new product or if they simply reference a standard shipment of the existing Apple TV. Apple often shifts its supplies and suppliers, and BYD Precision Manufacture is a relatively new partner for the company. Apple has received just four shipments in total from BYD, the three "set top box" shipments and one shipment labeled "PC Portable" on August 18.
While it could be a standard product shipment, the Apple TV is due for an update. It was last refreshed in March of 2012, though the current Apple TV did receive a smaller A5 chip earlier this year. It is also possible that Apple is planning to introduce an entirely new product, though it is unlikely to be the much rumored Apple-branded television set.
Over the past several months, Apple has been working to fortify its Apple TV content offerings by introducing a number of new channels. In June, WatchESPN, HBO GO, Sky News, Crunchyroll, and Quello were added, and in August, Apple debuted channels for Vevo, the Smithsonian, and Disney. Deals with TWC and The CW are also said to be in the works.