Along with the new iOS 7 beta 4 and iTunes 11 releases, Apple has also seeded version 5.4 of its Apple TV software to developers.
The third beta of the Apple TV software includes (via Schimanke.com) a function that allows users to purchase music from the iTunes store, a feature that was removed from earlier versions of the Apple TV software.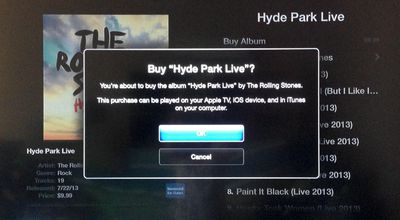 iTunes Music purchases can be made from the Music icon on the home screen of the Apple TV, which offers an iTunes Store-style interface.


The function is demonstrated in the video below:
Both individual songs and entire albums can be purchased and listened to using the new function on the Apple TV. The feature, along with
iTunes Radio
and a "Conference Room Mode" designed for business and academic settings, will be available for public use in the fall.
As noted in our post detailing the smaller changes in iOS 7, the Apple TV can also now be set up with an iPhone or an iPad running iOS 7.
The updated Apple TV software is expected to be available alongside iOS 7 later this year.