Apple Issues Invitations for September 10 Media Event: 'This Should Brighten Everyone's Day'
Apple has just sent out media invitations for its September 10 media event where the company is expected to introduce its next-generation iPhone hardware, reports The Loop. The event will begin at 10:00 AM Pacific Time and will be held at the company's headquarters in Cupertino, California. The tagline on the invitation reads "This should brighten everyone's day."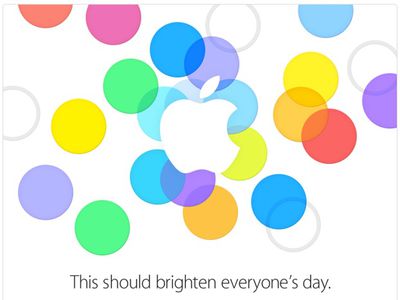 The September 10 date was first reported by AllThingsD last month, and was quickly confirmed by a number of other sources. Official invitations for the event were expected today given Apple's usual one-week lead time before such events.
The event is expected to include the introduction of two new iPhone models: an iPhone 5S successor to the current iPhone 5 and a lower-cost iPhone 5C that will reportedly have internal components very similar to the iPhone 5 but wrapped in colorful new plastic shells. The event will undoubtedly also see a final preview of iOS 7 before it released to the public.
Apple has also been reported to be launching new iPad and iPad mini models later this year, but they will not be making an appearance at this event. A number of Mac updates are also expected in the coming months, but they too are likely to held for a later date in order to give full focus for this event to the iPhone.