Size Comparison of a 12.9-Inch iPad with Smaller iPad Models and 13-Inch MacBook Air
Back in May, Korean site ETNews.com reported that Apple was looking at the possibility of launching a 12.9-inch iPad in early 2014 as a larger sibling to the original 9.7-inch iPad and the 7.9-inch iPad mini. The rumor, which included a claim that the device would be called the "iPad Maxi", was quickly brushed aside as a likely inaccurate claim, but late last month The Wall Street Journal brought fresh attention to the rumor with its own claims about Apple testing an iPad with a display "slightly less than 13 inches diagonally".
With the rumors sparking interest in what Apple might be able to do with a significantly larger iPad display, we commissioned CiccareseDesign to create renderings of what such a device might look like compared to the current iPad mini and iPad models, as well as the rumored fifth-generation iPad, which has been claimed to be adopting some of the iPad mini's styling with narrower side bezels.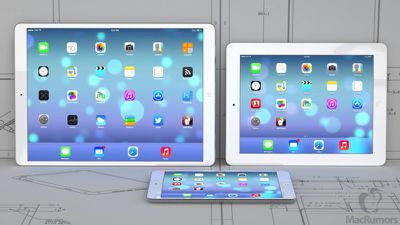 12.9-inch iPad (left) with fourth-generation iPad (right) and iPad mini (bottom)
[Click for larger]
Increasing the diagonal measurement of the iPad's display from 9.7 inches to 12.9 inches while maintaining the same 4:3 aspect ratio yields a substantial increase in display area of about 40%, leading us to believe that Apple will not simply scale up the existing iPad resolution to the larger screen size. Doing so would reduce pixel density from the 132 pixels per inch (ppi) or 264 ppi Retina on the current iPad to approximately 99 ppi (198 ppi Retina), making icons and other interface elements extremely large.
If Apple were, however, to maintain the same 132/264 ppi of the current 9.7-inch iPad, this 12.9-inch iPad could conveniently carry an increased resolution of approximately 1366 x 1024 (2712 x 2048 Retina), matching the "HD" display standard in width and exceeding it in height.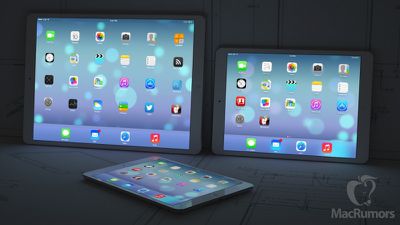 12.9-inch iPad (left) with rumored fifth-generation iPad (right) and iPad mini (bottom)
[Click for larger]
Speculating that Apple could take this approach with a larger iPad, even though it would necessitate additional work by developers to support the new resolution, we have rendered our 12.9-inch iPad at this higher resolution that maintains the pixel density of the current iPad. Doing so would allow the home screen to display at least one additional row of app icons with some increased spacing, and perhaps even more if spacing were reduced slightly.
Taking things even further, if Apple were to approach the pixel density of the iPad mini's display on this larger iPad, it could offer an even higher resolution of 1600 x 1200 (3200 x 2400 Retina) or 1680 x 1260 (3360 x 2520 Retina) on a display offering twice the area of the iPad mini's display.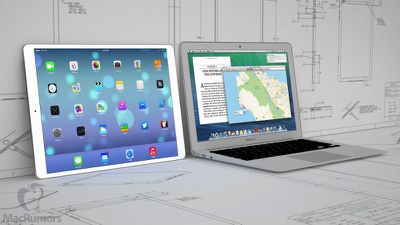 12.9-inch iPad (left) with 13-inch MacBook Air (right)
[Click for larger]
For comparison purposes, we've also rendered this 12.9-inch iPad next to a 13-inch MacBook Air, illustrating how the two devices with nearly identical screen sizes would compare physically. With a higher resolution than the current full-size iPad, the 12.9-inch iPad could be positioned as an even more feasible option to Apple's Mac notebooks for some users.
Apple is expected to launch the fifth-generation iPad within in the September-October timeframe, with an updated iPad mini reportedly carrying a Retina display and following relatively shortly thereafter. The original Korean report suggested that Apple's 12.9-inch iPad could launch early next year, but The Wall Street Journal's more recent report did not include a timeframe and in fact simply noted that Apple has been testing prototypes of the device and that it may ultimately never make it to market.