As reported by The Wall Street Journal, Chinese government officials are investigating Apple suppliers and electronics manufacturers UniMicron and Foxconn after local environmental groups accused both of dumping large amounts of toxic heavy metals into nearby rivers. The area in question is an industrial district 40 miles west of Shanghai that has been a longtime area of electronics development, but has also recently been suspected of letting harmful pollutants into China's environment.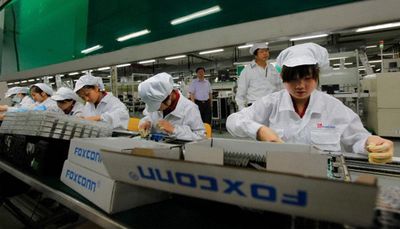 Local officials are investigating plants owned by Taiwanese companies Foxconn Technology Group and UniMicron Technology Corp., said Ding Yudong, the vice director of the local arm of China's environmental regulator. The probe follows accusations late last week by Chinese environmental activist Ma Jun and a group of five nonprofit organizations that the companies are releasing water tainted with heavy metals into the rivers.
An Apple spokeswoman replied to the accusations, saying that the company has been working in cooperation with suppliers and environmental groups to meet the standards established by the company. Apple has published Supplier Responsibility Progress Reports every year since 2007 to track the ethical progress of its suppliers in order to bring transparency to its manufacturing process. The company also recently established an academic advisory board for its Supplier Responsibility program to ensure "safe and ethical working conditions wherever its products are made."
Last month, a Chinese worker's rights group brought forth allegations of poor working conditions at Pegatron, another primary Apple supplier and electronics manufacturing company. The labor group accused Pegatron of making numerous safety and workplace violations, including the unethical holding of worker pay and poor living conditions within the factory. Pegatron currently employs 70,000 workers and produces one-third of the world's iPhones and iPads.