Two months ago, Topeka Capital Markets analyst Brian White gained significant attention for his claims that Apple is targeting a late 2013 launch for its long-rumored television set. In his research note, White claimed that Apple has been working on a 60-inch television that will use an "iRing" motion controller as well as iPad-like auxiliary second screens.
In a new research note published today, White stands by his previous claims, continuing to believe that Apple is looking to service subsidies to help bring the upfront cost of the television set down.
We were told that carriers will be an important part of the go-to-market strategy for Apple's TV ambitions and subsidize the $1,500-$2,500 "iTV", offering customers a single bill that will include a wireless plan (i.e., iPhone, iPad), Internet connection services, an "iTV" plan and other services. As we have previously discussed, the 60-inch "iTV" (50-inch and 55-inch may also be available) is anticipated to come with one iPad-sized "mini iTV" with the option to add more "mini iTVs".
Such bundling may, however, be difficult given that customers frequently have different wireless carriers and cable or satellite television providers, although some providers such as Time Warner Cable and Verizon Wireless have teamed up to offer bundles of TV, Internet, home phone, and mobile phone service.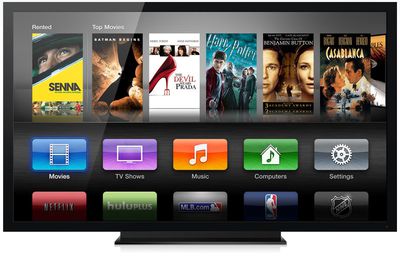 White goes on to describe his vision for how the TV will be controlled:
Motion detection technology will be used on the "mothership iTV" and the "iRing" will allow for improved control accuracy. For example, we believe the "iRing" will provide for more accurate control of channel surfing, content management and settings via motion detection, while also offering a more seamless gaming experience on Game Center. We were told that "iRing" will not be the sole option available to control the "mothership iTV", as iOS devices (i.e., iPhone, iPad) and Siri will provide alternatives for similar or different use cases. Clearly, there will be many different uses for "iTV" and similar to the various devices (i.e., remote, Magic Mouse, Magic Trackpad, wireless keyboard, etc.) that are used to control an iMac, we believe it makes sense for consumers to have different options to control the "iTV".
Finally, White believes that component production for Apple's rumored lower-cost iPhone will ramp up this month, setting the stage for a possible introduction as soon as next month. Most sources have, however, indicated that it will launch somewhat later, with KGI Securities analyst Ming-Chi Kuo indicating that a launch in the August-October timeframe is most likely due to Apple's continued work on color coatings for the device's plastic shell.