Sketchy Rumor Claims Sapphire-Covered Capacitive Home Button for iPhone 5S
Cult of Mac points to a report [Google translation] from Taiwanese site TechNews claiming that Apple will be including a sapphire-covered capacitive home button on the iPhone 5S in order to accommodate the fingerprint sensor rumored to be coming as a differentiating feature for the device.
Apple is expected to do away with the traditional physical home button, which has long been one of the most unreliable components on iOS devices. It's thought that using sapphire crystal, which has a hardness second only to diamond, will prevent the button from getting scratched and ruining the fingerprint sensor. [...]

They insist Apple will employ a capacitive touch home button for the first time with the iPhone 5S, eliminating one of the most unreliable components in an iOS device (the physical home button has a tendency to fail after long periods of use).
TechNews has not, however, been a regular source of Apple rumors, and thus it is difficult to place much faith in this rumor. Rumors of a capacitive home button to replace the physical button that has been a staple of iOS devices since the launch of the original iPhone in 2007 have circulated for several years, but have never gained serious traction.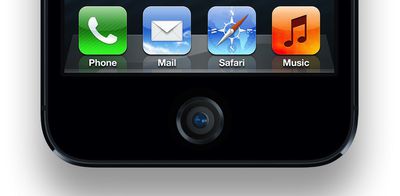 Reports of a fingerprint sensor for the iPhone 5S have been gaining steam following Apple's acquisition of mobile security firm AuthenTec last year, with high-profile Apple analyst Ming-Chi Kuo repeatedly predicting that the device will include such a feature "under" the home button, although details on exactly how it will be incorporated into the device remain unknown.
Sapphire crystal as a scratch-resistant covering has also been a popular topic of conversation since Apple began using the material for the rear camera on the iPhone 5 and fifth-generation iPod touch last year. Earlier this year, we noted that the material may someday replace glass as the protective layer for mobile device displays, although it will take some time before costs become reasonable for such an expansive use of sapphire.