BlackBerry Messenger Coming to iOS This Summer
BlackBerry has announced that it will bring its BlackBerry Messenger (BBM) platform to iOS this summer. BBM was one of the first proprietary mobile messaging services -- not unlike Apple's iMessage service -- and remains hugely popular.
The company reports that BBM has 60 million monthly active users and that BBM users send 10 billion messages per day. In January, Apple claimed iMessage users were sending 2 billion messages per day.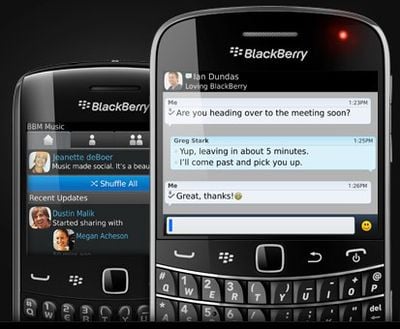 Moreover, there are a number of popular so-called 'over-the-top' messaging services including WhatsApp and Facebook Messenger -- both of which move billions of messages a day.
BBM set the standard for mobile instant messaging with fast and reliable service and an added layer of engagement with delivered and read statuses. You've shared with us your stories about how BBM has kept you connected when it mattered most to you. Upon release of the multi-platform BBM service, you can broaden that real-time connection to friends and colleagues on other supported mobile platforms.

In the first version of multi-platform BBM, iOS and Android users are expected to be able to experience the following BBM features:

- The immediacy of BBM chats
- Multi-person chats
- Voice note sharing
- BlackBerry Groups, where BBM users are able to set up groups of up to 30 people and share calendar, photos, files and more

The team here at BlackBerry has definitely been working hard to bring the much-adored BBM experience to a wider group of mobile users.
It was rumored back in 2011 that BlackBerry was planning to port BBM to iOS.
BlackBerry Messenger for iOS and Android is expected to be released this summer.