Massive Growth in Apple's Cloud-Based Services Eclipsed by Debate on Financials
While talk of flatline growth dominated media responses to Apple's financial results yesterday, the massive growth of Apple's cloud-based services appeared to go largely unnoticed.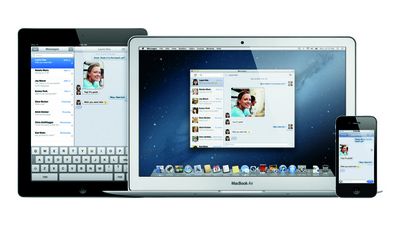 In 2012, reports iPodNN, the number of iCloud users grew from 85 million to over 250 million. iTunes subscribers have topped 500 million, generating a record $2.1 billion profit for the quarter.
iMessage has also proven to be a hugely popular service, with users sending over two billion messages a day from over 500 million devices, with the total iMessage count now having surpassed 450 billion. Apple CEO Tim Cook addressed the focus on online and web services during yesterday's conference call:
In terms of other services, we feel fantastic about how we're doing. In Notification Center, we've now sent over 4 trillion notifications, and this is mind-blowing. As Peter mentioned in his opening comment, for iMessage we've now sent over 450 billion and are currently sending those over 2 billion per day. With Game Center, we've got over 200 million registered users. We have 800,000 apps on the App Store with over 40 billion downloads. And so I feel really, really great about it. There is obviously more stuff we can do and you can bet we're thinking about all of it.
Cook has repeatedly referred to iCloud as a "strategy for the next decade" for Apple. He has also characterized the increasing reliance and trust consumers place on cloud-based storage and services as "truly profound" and "a fundamental shift" in the way content is accessed.