Rumor Suggests Replacement for Mac Pro Due in April or May
MacDailyNews, which does not have much of a track record on rumors, says one of its sources said Apple will announce a replacement to the Mac Pro at some point in the next several months.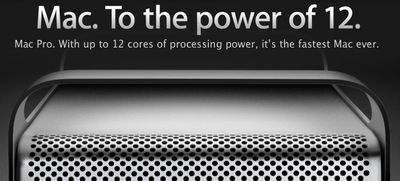 Apple will announce its replacement for the company's Mac Pro lineup this month, a source who has been correct about Apple product matters in the past has just informed us.

Our source offered no information as to whether the "Mac Pro replacement" would be a tower, mini-tower, or some other solution, but did caution that the announcement "could slip into May or even June, but currently April looks most likely."
It has been nearly one thousand days -- almost three years -- since the last significant update to the Mac Pro.
Last year, Apple said a new Mac Pro model was likely to arrive sometime in 2013. Earlier this year, a European reseller claimed they heard from Apple that a new Mac Pro would arrive this Spring. WWDC 2013 would seem to make the most sense for the announcement of a new pro-level Mac workstation.
The current Mac Pro is not available for purchase in Europe because of EU regulatory requirements around unprotected fan blades, providing some additional incentive for Apple to release a new model.