An Inside Look at Apple's Genius Training Manual
Gizmodo reports that it has obtained a complete copy of Apple's training manual for new retail store Genius hires. The manual includes an overview of the two-week training new Geniuses go through, along with detailed information on how to handle customer service issues across a broad variety of scenarios.
The manual could easily serve as the Humanity 101 textbook for a robot university, but at Apple, it's an exhaustive manual to understanding customers and making them happy. Sales, it turns out, take a backseat to good vibes—almost the entire volume is dedicated to empathizing, consoling, cheering up, and correcting various Genius Bar confrontations. The assumption, it'd seem, is that a happy customer is a customer who will buy things. And no matter how much the Apple Store comes off as some kind of smiling likeminded computer commune, it's still a store above all—just one that puts an enormous amount of effort behind getting inside your head.
The report highlights several topics from the manual, including training on how to empathize with customers to build a relationship, recognizing body language and other cues to help understand each customer's emotions and guide the interaction to a resolution, and Apple's "banned words" along with the preferred terms that should be used to describe certain issues.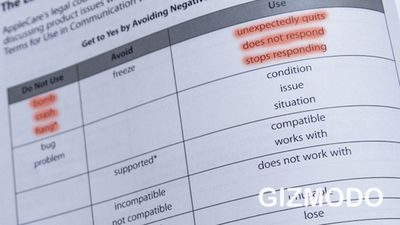 Apple's retail stores have long been highly regarded for their customer service, with staff providing significant levels of free support through the Genius Bar while sales associates training in helping customers find solutions to their problems assist with purchases. A number of Apple's customer service interaction technique have even been adopted from the Ritz-Carlton luxury hotel chain, itself famous for attention to customer service.
But as the chain has continued to grow there have been signs of strain on this outlook for retail, with staff reportedly being asked to do more with less amid claims that operational efficiency has risen in significance at the price of reduced customer and employee satisfaction.