Microsoft Denies Claims of Imminent Launch of Office for iPad [Updated x4]
Earlier today, a report from The Daily claimed that Microsoft has a "working prototype" of its Office suite for iPad, with the app reportedly set to be submitted to Apple for App Store approval "soon".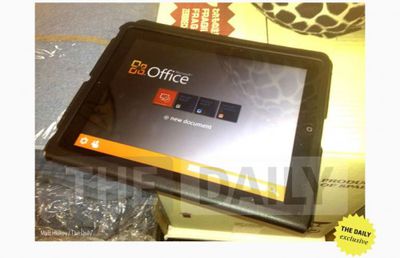 The New York Times now reports that Microsoft has issued a statement denying at least some of the claims made in the original report, although the company offered no detail on what specific claims it was objecting to.
A Microsoft spokeswoman issued this statement: "The Daily story is based on inaccurate rumors and speculation. We have no further comment."
Following the introduction of the original iPad back in 2010, Microsoft indicated that it was "looking at", the possibility of bringing Office to the device, but by the time the device launched a few months later the company said it had "no current plans" for such a project. Rumors of Office for iPad were revived by The Daily late last year with claims that Microsoft was "actively working" on an app.
Update: Microsoft has also responded to ZDNet, claiming that the screenshot accompanying The Daily's report is "not a real picture of a Microsoft software product".
A Microsoft spokesperson said the screen shot accompanying The Daily's story is not a real picture of a Microsoft software product. But the spokesperson also said Microsoft is declining to comment as to whether or not the company has developed a version of Office for the iPad and/or when such a product may come to market.
Update 2: The Daily's Peter Ha has taken to Twitter to defend the original report, saying that "a working version of the app was demoed to us by someone at Microsoft."


Update 3: TechCrunch has also weighed in, offering another statement from Ha and its own confirmation that the project is indeed real.
Sure enough, they did their homework and Ha stands by the story and pic.

"We've been chasing this story down for weeks. We did not fabricate the image and Microsoft isn't denying the existence of Office for iPad. All this fuss over a photo is nonsense. The story is real."

We also got confirmation from local sources in Seattle, who assure us that the software is real and being developed in-house. However, as the build in the picture is far from final, Microsoft can deny (in its overly specific way) that it's not a real product.
Update 4: Microsoft's official Microsoft News account on Twitter has weighed in promising that the situation will become clear in the "coming weeks".
Great respect for The Daily but regrettably someone is giving them bad info, and that'll be clear in the "coming weeks."