Microsoft Office on iPad Spotted, Coming Soon to App Store
The Daily claims to have had hands-on time with a working prototype of a version of Microsoft Office for the iPad (via TheVerge). The Daily had previously reported that Microsoft was actively working on bringing Microsoft Office to the iPad.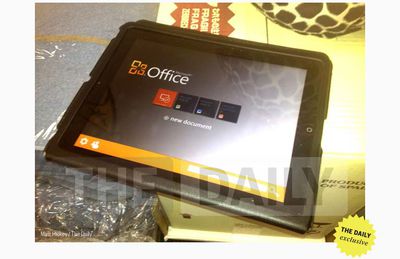 The version (pictured above) is said to allow the creation and editing of Word, Excel and PowerPoint files both locally and online.
A brief hands-on with a working prototype of the software revealed a number of new things. The app's user interface is similar to the current OneNote app, but it has hints of Metro, the new design language that can be seen in Windows Phone and in the as-yet-released Windows 8 desktop operating system.
They claim the app will soon be submitted to Apple for App Store approval. Notably, a version of Android is "not in the works" according to the same source.