Samsung Easily Tops Apple to Become World's Top Smartphone Manufacturer
Last week, The Wall Street Journal reported that Samsung had overtaken Apple for the title of world's top-selling smartphone manufacturer, relying on a source who indicated that Samsung had shipped over 20 million smartphones in the third quarter, compared to Apple's announced sales of 17.1 million iPhones.
Samsung today officially announced its financial results for the third quarter, and while it no longer releases smartphone sales units, it did disclose that smartphone sales were up more than 40% over the previous quarter. With Samsung having been close on Apple's heels during the second quarter and Apple's sales declining in the third quarter as customers waited for the iPhone 4S, that growth enabled Samsung to easily surpass Apple in the smartphone segment.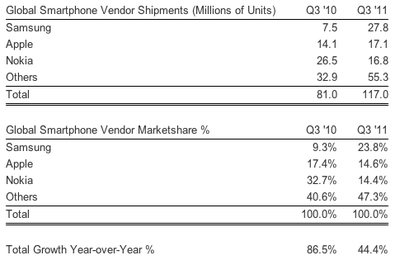 Research firm Strategy Analytics has released its data on smartphone shipments for the third quarter, pegging Samsung at 27.8 million units while Apple barely edged out Nokia for second place by a margin of 17.1 million units to 16.8 million units.
Neil Mawston, Director at Strategy Analytics, added, "After just one quarter in the top spot, Apple slipped behind Samsung to second position and captured 15 percent share. Apple's global smartphone growth rate slowed to just 21 percent annually in Q3 2011, its lowest level for two years. We believe Apple's growth during the third quarter was affected by consumers and operators awaiting the launch of the new iPhone 4S in the fourth quarter, volatile economic conditions in several key countries, and tougher competition from Samsung's popular Galaxy S2 model."
While Apple is expecting all-time record iPhone sales during the current quarter as the iPhone 4S rolls out around the world, it still may not be enough to overcome Samsung's significant lead and strong growth.
In the overall mobile phone market, Strategy Analytics pegged Apple in fifth place, slipping behind ZTE compared to the previous quarter. Apple's share of the total market fell to 4.4%, down from 5.6% in the second quarter.