Apple Reopens iTunes Match Beta for U.S. Developers
Apple has sent out an email to registered developers today notifying them that the company has opened the iTunes Match beta to additional developers in the United States. The iTunes Match beta was initially opened late last month, but closed to new registrations within a few hours after the initial quota of developers was reached.
iTunes Match beta testing has now been expanded to additional developers in the United States.

iTunes Match stores your music library in iCloud and allows you to enjoy your collection from anywhere, any time, on your iPhone, iPad, iPod touch, or computer. Any of your songs, including music you've imported from CDs, that matches with the 18 million songs in the iTunes Store will become available in iCloud and will play back at iTunes Plus quality (256 Kbps DRM-free AAC) — even if your original was of a lower quality.
Apple goes on to note that developers must upgrade to the new iTunes 10.5 beta 8 in order to use iTunes Match, and continues to warn that all iCloud libraries will be deleted at the end of the beta testing period, so users should be sure to retain copies of their music libraries.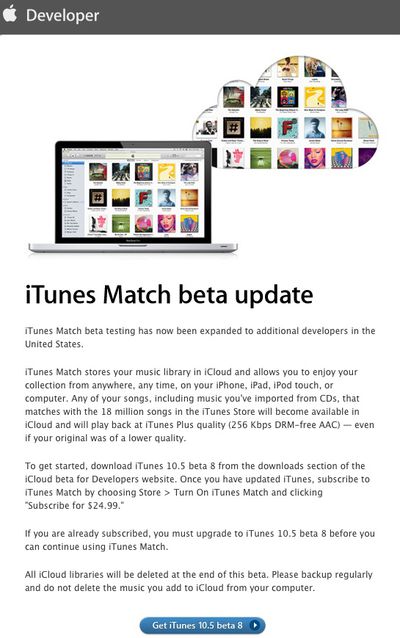 iTunes Match is priced at $24.99 per year, and Apple is providing developers who sign up for the service with additional time on their subscription to carry them through the beta testing period and the first full year of public availability.