iTunes Match Beta Now Available for Developers (iTunes Beta 6.1)
iTunes Match was released to developers today in an email from Apple: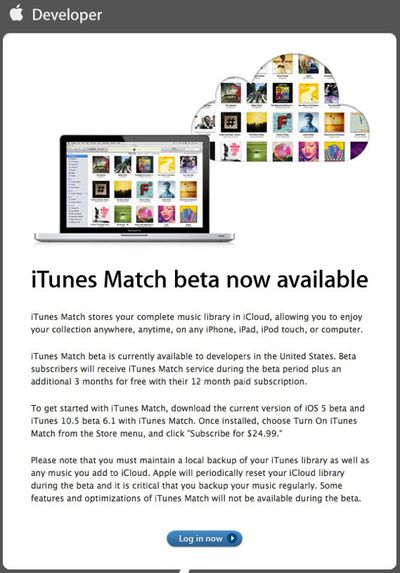 In the email, Apple notes that beta subscribers will receive an additional 3 months free with their $24.99 paid subscription to cover the beta plus the standard 12 months after launch.
Apple also advises customers to maintain a local backup of their iTunes library and any music they add to iCloud. "Apple will periodically reset your iCloud library during the beta and it is critical that you backup your music regularly. Some features and optimizations of iTunes Match will not be available during the beta."
iTunes Match will give users the same benefits for their downloaded and ripped music as those purchased from the iTunes Music Store, up to 25,000 songs, for $24.99/year.