Apple Seeds New iTunes 10.5 and iWork for iOS Betas to Developers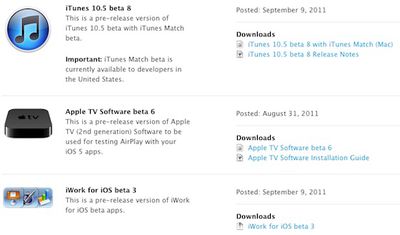 Apple today seeded new builds of iTunes 10.5 and iWork for iOS to developers, continuing to push forward on work toward a full launch of the company's iCloud services. The releases include iTunes 10.5 beta 8 and iWork for iOS beta 3.
The new iTunes 10.5 build supersedes beta 7, which was released alongside iOS 5 beta 7 on August 31st, while the new iWork for iOS version is an update over the beta 2 version released on August 19th.
Both releases are being targeted to support Apple's iCloud services, which have been announced for release this fall. iCloud is widely expected to launch alongside iOS 5 and new iPhone and iPod hardware by the middle of next month.