Photo Stream iPhone Icon Hints at the iPhone 5 Design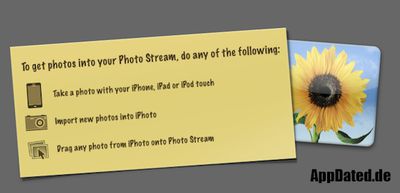 Screenshot courtesy of
Appdated.de
, also posted by
9to5Mac
Earlier today we
posted
an image to our
iOS blog
from Apple's upcoming Photo Stream instructions that seemed to show an unusual looking iPhone icon. We had initially dismissed it as possibly being a generic artist rendition, but upon further consideration, it does seem too coincidental that an icon closely resembling circulating rumors would appear in an official Apple release.
The icon can be seen in context above. There isn't a whole lot of detail with the icon, but on overview, it seems to show an iPhone-like device with an enlarged screen and possibly an elongated home button at the bottom. This matches up nicely with many of the circulating rumors about the iPhone 5.


Here we've enlarged the icon and put it alongside our designer's layout of what the iPhone 5 might look like based on the leaked case design documents. We previously posted fully rendered versions of images based on the design. There's been some debate about what size the iPhone 5's screen might be with a recent report claiming it would be less than 4".
As pointed out by one of our readers, Apple tends to be very precise with their artwork, even at small icon sizes.
Thanks NICKPR0