Dual-Mode iPhone 5 Shows Up in App Developer Logs
Techcrunch reports that at least one developer has found evidence that Apple is testing the iPhone 5 against current App Store apps. The logs seem to confirm that the iPhone 5 (running iOS 5) will be a dual-mode device supporting both GSM and CDMA in one phone.
The logs show that the app has been briefly tested by a handful of people using what is almost certainly an iPhone 5, evidently running iOS 5, sporting two distinct sets of mobile network codes (MNC) / mobile country codes (MCC). Those codes can be used to uniquely identify mobile carriers.

Sure enough, some registrations for the app – which the developer also asked not to be named – were logged from a new Apple device, using the MNC/MCC codes from both Verizon and AT&T.
Apple presently produces two different models to support both Verizon and AT&T. It's long been believed that the iPhone 5 will support both standards in a single device.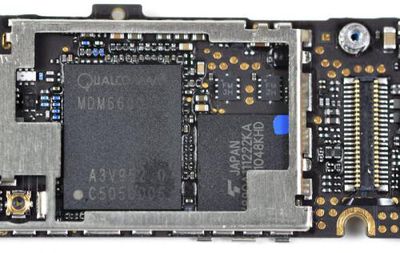 Qualcomm's "world-mode" MDM6600 wireless chip found in CDMA iPhone 4 and iPad 2
(Source: iFixit's Verizon iPhone teardown)
Apple's Verizon iPhone 4
already contains
the expected Qualcomm chipset that supports both standards. Verizon CFO has
even publicly stated
their belief that the next iPhone will be a "global device".