Verizon CFO Reveals Next iPhone to Be a 'Global Device'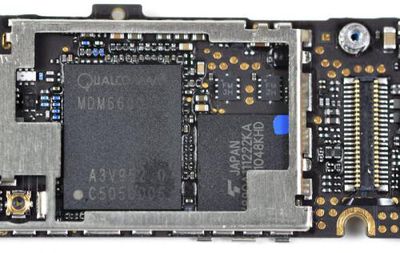 Qualcomm's "world-mode" MDM6600 wireless chip found in CDMA iPhone 4 and iPad 2
(Source: iFixit's Verizon iPhone teardown)
As
noted by Barron's
, Verizon Chief Financial Officer Fran Shammo revealed during a conference call discussing the carrier's
earnings announcement
that Apple's next iPhone will be a "global device", presumably referring to a world-mode phone supporting both GSM and CDMA connectivity rather than having separate models for each network standard.
Verizon CFO Fran Shammo, asked about the sluggishness of the company's ARPU growth in Q1, when the iPhone was introduced - growth was just 2.2%, compared to 2.5% in Q4, remarked:
"The fluctuation, I believe, will come when a new device from Apple is launched, whenever that may be, and that we will be, on the first time, on equal footing with our competitors on a new phone hitting the market, which will also be a global device."
The existing CDMA iPhone 4 already carries a world-mode wireless chip from Qualcomm inside it, but the company presumably opted to build the device as CDMA-only in order to simplify the antenna construction. The iPad 2 carries the same wireless chip, but Apple still decided not to build a universal global device capable of operating on either standard.
But if Shammo's comment is correct, it appears that Apple may finally make the leap to a single design supporting both CDMA and GSM with the release of the fifth-generation iPhone rumored for introduction in September.