Verizon iPhone Carries World-Mode 'Gobi' Chip From Qualcomm [Updated]
Repair firm iFixyouri has started taking apart the Verizon iPhone and 9 to 5 Mac notes that the device carries a Qualcomm "Gobi" MDM6600 wireless chip inside it, technically offering "world-mode" compatibility with both CDMA and GSM networks. iFixit is also performing one of its usual high-quality teardowns of the Verizon iPhone and has seen the same chip.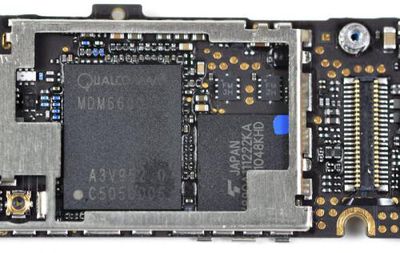 The MDM6600
supports
HSPA+ data rates of up to 14.4 Mbps, as well as CDMA2000 1xEV-DO Rev. A/Rev. B. Apple of course has not included a SIM-card slot in the Verizon iPhone, and thus the device can not actually be used on GSM networks.
The use of the dual-mode chip in the Verizon iPhone does, however, increase the likelihood that Apple will use a similar solution in the fifth-generation iPhone and could thus offer a single model supporting both GSM and CDMA networks.
Update: iFixit's Kyle Wiens speculates that keeping separate CDMA and GSM devices for the time being may have made it easier for Apple when it comes to antenna design given the number of frequencies involved across the standards. The Motorola Droid Pro currently uses the same Qualcomm chip to offer both CDMA and GSM compatibility.
iFixit also notes that the vibrator on the Verizon iPhone has been redesigned and moved, yielding a "quieter, softer feel" with a less-jarring noise when the device is lying on a table.