Google Announces 'Chromebook' Laptops, No Word on Chrome-Based Tablets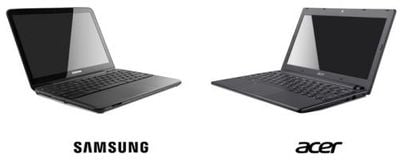 On the second day of its I/O conference, Google has
announced
the June 15th launch of
Chromebooks
, small web-only notebooks running the company's browser-based Chrome OS.
These are not typical notebooks. With a Chromebook you won't wait minutes for your computer to boot and browser to start. You'll be reading your email in seconds. Thanks to automatic updates the software on your Chromebook will get faster over time. Your apps, games, photos, music, movies and documents will be accessible wherever you are and you won't need to worry about losing your computer or forgetting to back up files. Chromebooks will last a day of use on a single charge, so you don't need to carry a power cord everywhere. And with optional 3G, just like your phone, you'll have the web when you need it.
Chromebooks will initially launch with models from Samsung and Acer, typically checking in as dual-core Atom-based machines with displays in the 11-12 inch range and limited onboard storage of 16 GB. Pricing for early models is said to begin at $350 and range up to $500 for a Samsung model with integrated 3G connectivity and limited monthly data allowances from Verizon. Google is also offering monthly subscription pricing for students ($20) and businesses ($28), providing them with a manageable fee that includes full support, software updates, and even hardware upgrades.
According to Mashable, Google is "fully focused on notebooks" when it comes to Chrome OS, suggesting that the company will continue to utilize Android to drive tablet products, despite long-standing rumblings and evidence indicating that the company is contemplating bringing Chrome OS to tablet devices.
When asked about Google's future plans for Chrome OS beyond the notebook, Google SVP of Chrome Sundar Pichai said that Chrome OS is "agnostic" to the hardware it runs on. In other words, Chrome OS can easily be ported to tablets, desktops and other Internet-connected devices.
With that said, Pichai made it clear that Google is laser focused on Chrome OS for the notebook. He noted that Google wants to reach the greatest amount of people possible, and most people use notebooks rather than tablets or desktops. "We are fully focused on notebooks," Pichai said.
Google's Chrome OS has been looked to as a lightweight operating system potentially capable of revolutionizing the netbook and tablet industries. Apple of course has continued moving forward with its own products in these areas, launching and even updating the iPad in the tablet market and sticking to the high end of the "netbook" market with its newly-redesigned MacBook Air finally extending into the sub-12 inch display range since Google first previewed Chrome OS in late 2009.