Google Previews Chrome OS, Scheduled for Release in Late 2010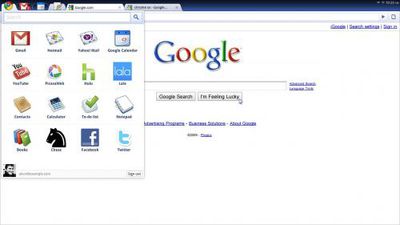 Google today held a preview event for Chrome OS, the company's forthcoming browser-based operating system scheduled to launch initially on netbooks in late 2010. Among the major announcements was that, like Google's Chrome browser, Chrome OS has been
open-sourced
as "Chromium OS" to allow any interested developers to contribute to developing the best possible operating system.
Today we are open-sourcing the project as Chromium OS. We are doing this early, a year before Google Chrome OS will be ready for users, because we are eager to engage with partners, the open source community and developers. As with the Google Chrome browser, development will be done in the open from this point on. This means the code is free, accessible to anyone and open for contributions. The Chromium OS project includes our current code base, user interface experiments and some initial designs for ongoing development. This is the initial sketch and we will color it in over the course of the next year.
Chrome OS is being positioned as a solution for users' secondary machines, offering a speedy, browser-based operating system consisting of Web apps and cloud-based data storage. The focus on speed begins at the top, with boot times currently clocking in at approximately 7 seconds.
Chrome OS will ship only on specific hardware from as-yet unnamed manufacturers with whom Google is partnering for development. As a cloud-based operating system, Chrome OS-based netbooks are planned to forgo traditional hard drives and instead utilize flash memory and remote cloud storage for their data handling needs. Pricing of Chrome OS-based netbooks is yet to be determined, but Google is anticipating that they will be in line with current netbook prices.
Google has also posted a promotional video highlighting the concept behind Chrome OS.