Google to Launch Chrome OS Tablet in Late November?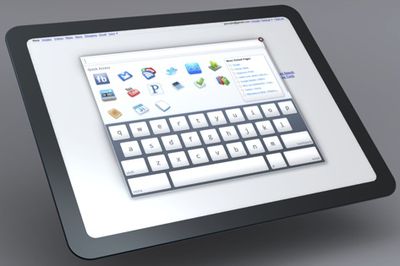 Google mockup of Chrome OS tablet user interface
Download Squad claims
that Google is preparing to launch a Chrome OS-powered tablet on November 26th, the day after Thanksgiving in the U.S. known as Black Friday for its widespread discounts to kick off the holiday shopping season. According to the report, the Chrome OS tablet will be manufactured by HTC and Google will partner with Verizon for data service plans on the device.
So what will the Google tablet pack for hardware? It'll likely be based on NVidia's Tegra 2 platform and sport a 1280x720 multitouch display, 2GB of RAM, minimum 32GB SSD, WiFi/Bluetooth/3G connectivity, GPS, webcam, and possibly expandable storage via a multi-card reader. Expect it to be every bit as geek-tastic as the Nexus One -- Google won't want to disappoint its early adopters.
Pricing for the device and data service is unknown, although speculation suggests that data plan contracts could allow for subsidies to greatly reduce the cost of the actual device.
Google previewed Chrome OS in November of last year, stating that the browser-based operating system would debut on netbooks in late 2010. The company also noted its explorations of how Chrome OS might work on other form factors, including tablets, to illustrate the potential of the platform. With the success of Apple's iPad launched earlier this year, tablets have become an increasingly visible alternative to netbook and low-end notebooks, and Google is unsurprisingly apparently preparing to make its move into the space to go head-to-head with Apple once again.
Update: Engadget casts significant doubt on the story, noting that the original author has clarified that the specs shared in the report are simply speculation and sharing details from its own trusted source claiming that ARM-based Chrome OS tablets won't appear until late 2011 at the earliest.