Apple Releases iPhoto 9.1.1 With New Email Options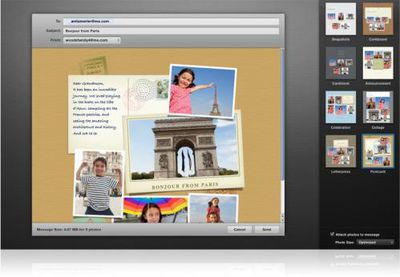 Apple today released
iPhoto 9.1.1
, bringing a number of minor new features and fixes to the company's consumer-grade photo editing and management application included in iLife '11. Among the most prominent features included in the update are new email options for using third-party email programs, new themes for photo emails, and the ability to easily resize photos when attaching them to emails.
This update adds new email options to iPhoto '11. It also improves overall stability and addresses a number of other minor issues. Specific fixes include:
- Adds a preference allowing photos to be emailed using an external email application
- Adds "Classic" and "Journal" themes to email.
- Photos attached to an email can now be sized to Small, Medium or Large
- Improves reliability when upgrading a library from an earlier version of iPhoto
- iPhoto now correctly preserves the sort order of Events after upgrading a library
- Event titles displayed in headers can now be edited in Photos view
- Addresses a problem that could cause duplicate photos to be added to a MobileMe album
- Scrolling overlay now correctly displays ratings when photos are sorted by rating
- Photos are now sorted correctly when a rating is changed and photos are sorted by rating
- Fixes a problem that could cause text formatting controls to become inaccessible when editing a calendar
Apple released iPhoto 9 as part of the iLife '11 package in late October, but had to quickly release iPhoto 9.0.1 the following week to address issues with data loss for some customers upgrading to the new version. In early November, Apple released iPhoto 9.1 to restore support for photo calendars that had gone missing in the initial iPhoto 9 release and to include support for new holiday-themed letterpress cards.
iPhoto 9.1.1 weighs in at 62.09 MB and requires Mac OS X 10.6.3 or later.