Apple Releases iPhoto 9.0.1 to Address Data Loss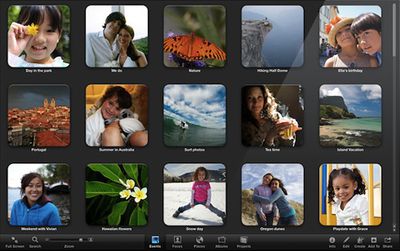 Apple has
released
a version update (9.0.1) for iPhoto that should prevent the
possibility of data loss
when upgrading to iPhoto '11.
This update addresses issues that, in extremely rare cases, could result in data loss when upgrading a library from an earlier version of iPhoto.
A support document walks through the process to prevent this from happening. The instructions, however, are a bit confusing due to the naming and version numbers of iPhoto.
iPhoto '09 = iPhoto 8.x
iPhoto '11 = iPhoto 9.x
The launching of iPhoto '11 initiates the upgrade process to your old iPhoto library which is where data loss can occur.
Before an existing iPhoto library can be used with iPhoto '11 it must be upgraded. This process occurs when you open your library with iPhoto '11 for the first time. In extremely rare cases, if you do not follow the recommendations below during the upgrade process you may experience data loss. This article outlines the various events that may occur during the library upgrade process and offers advice on how to avoid data loss.
So, the proper steps of upgrading an existing iPhoto installation to iPhoto '11 appears to be:
1. Backup your existing iPhoto Library
2. Install iLife '11 (which includes the iPhoto 9.0 upgrade)
3. Install iPhoto 9.0.1 update from Apple. It should appear in Software Update.
4. Only after installing 9.0.1 should you then launch iPhoto, which will then prompt you to upgrade your iPhoto library