Hints Increasingly Point to Impending Launch of Apple's 27" LED Cinema Display
In late July, Apple announced a new 27" LED Cinema Display, set for launch in the "September" timeframe to replace the existing 24" LED Cinema Display and 30" Cinema Display, which are seeing remaining stock being depleted before being officially discontinued. With September now half over, customers have been anxious for an update on the possible release of the new 27" display, and signs are beginning to appear hinting at a release in the near future.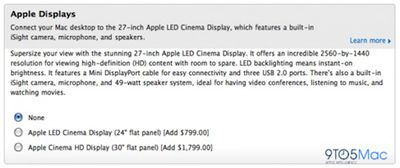 Apple's Mac Pro customization page as it appeared earlier this week
As
noted by 9 to 5 Mac
a few days ago, the customization pages for Mac Pro orders placed through Apple's online store were displaying updated descriptions advertising the 27-inch display as an option, despite the fact that only the 24" and 30" models remained available as selections. While Apple's site has since been reverted to omit descriptions of the 27" display, it is clear that some adjustments were going on behind the scenes that suggest preparations for launch of the new display may be underway.

Apple's 30" and 24" displays currently unavailable in Australian online store
That hint has now been followed by the apparent complete discontinuation of the
24"
and
30"
displays in several international online Apple stores such as those for Australia and New Zealand. While the models showed availability of "within 24 hours" just a day or two ago, the stores now list the models as "Currently Unavailable".
Officially, Apple continues to list the 27" display as "Coming September" in the U.S. and a number of other markets, while Apple's sites for Australia and New Zealand simply note that the new model is "Coming Soon". It appears, however, that based on the continuing changes to Apple's online store listing and availabilities, Apple may be preparing to take orders for the new 27" LED display in the very near future.