Apple Announces 27-Inch LED Cinema Display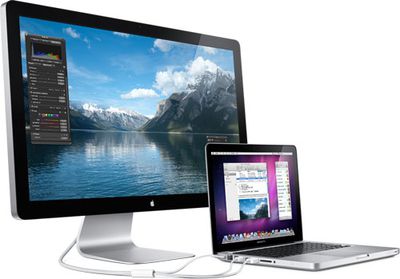 Apple also
announced
the release of a new
27" LED Cinema Display
featuring a resolution of 2560x1440. The latest Apple screen features an iSight video camera, microphone and speakers:
"With built-in MagSafe charging, iSight camera, speakers, and USB ports, the LED Cinema Display is ideal for MacBook and MacBook Pro users," said Philip Schiller, Apple's senior vice president of Worldwide Product Marketing. "With its massive 2560 x 1440 resolution, the new 27-inch LED Cinema Display is a perfect fit with our powerful new Mac Pro, and it gives iMac users an easy way to double their screen real estate."
The 27" display also features a 16:9 aspect ratio, a MagSafe charger as well as a 3-port USB 2.0 hub. An ambient light sensor automatically adjusts the screen's brightness based on the lighting conditions.
The new LED Cinema Display will be available in September for a price of $999. It requires a Mac with Mini DisplayPort connectivity.
Apple has also dropped the price on its existing 24" LED Cinema Display to $799 from its previous $899 price point, although it appears that Apple may be phasing out that model as stock clears. Finally, Apple's aging 30" Cinema HD Display continues to be available priced at $1799, but that model is also available only while supplies last.