Apple Officially Discontinues 30-Inch and 24-Inch Cinema Displays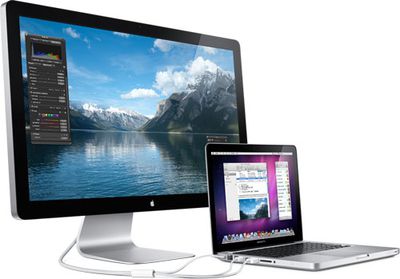 Although we
already noted this fact
as a footnote in today's 27" LED Cinema Display announcement article, we felt it important to point out -- Apple has officially discontinued the 24" and 30" Apple Cinema Displays. Going forward, today's 27" LED Cinema Display will be the only display offered by Apple. According to
Macworld
:
At the same time, this marks the end of the road for the 24-inch and 30-inch Apple displays. According to Apple vice president of hardware marketing David Moody, those products will continue to be sold until supplies run out, at which point the new 27-inch display will be Apple's only standalone offering.
The new monitor offers the same horizontal resolution as the now discontinued 30" display at 2560 across, though fewer pixels vertically (1440 vs 1600). The 30" has been the topic of much speculation as Apple has left the large screen display relatively stagnant over the years. Apple's focus on portable products is apparent as the 27" LED Display appears to be primarily targeted at laptop owners.
Apple will continue to sell the 24" and 30" LCDs until stock runs out.