Live Coverage of Apple's 2010 Fall Media Event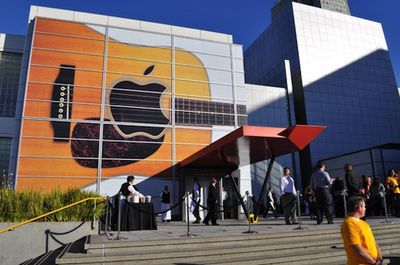 Outside Apple's media event in San Francisco (Source: CrunchGear)
Apple today is holding its traditional fall media event where it is expected to introduce several new and updated products and services, with iPods, iTunes, and Apple TV serving as the most frequent topics of rumor and speculation. The event is scheduled to kick off at the Yerba Buena Center for the Arts in San Francisco at 10:00 AM Pacific Time / 1:00 PM Eastern Time, or just about one hour from now.
Just yesterday, Apple announced that it will be offering live video streaming of the event on limited platforms. In addition to Apple's video stream, we will be updating this article with coverage as the media event unfolds. We will also be issuing Twitter updates through our @MacRumorsLive account.
Apple's online stores around the world are currently down in advance of the event.
Recent News and Rumors
- Apple's Media Event on Wednesday - iPod and Apple TV Rumors and Speculation
- Next-Generation iPod Touch to Be 'Slightly Thinner' Than Current Models?
- Apple TV Reported to Retain Name, Updated Products Not Shipping Immediately?
- Apple Set to Debut 99-Cent iTunes TV Show Rentals From Fox and ABC
- Revamped Apple TV to Offer Netflix Streaming?
- Video of Next-Generation iPod Nano Touch Screen Surfaces
- Next-Generation iPod Nano to Maintain Price Range, Ship Later?
Live Updates
- Apple's live feed is now active and available through this link. For users on non-compatible systems, this stream appears to be working well.
- Announcer notes the event will begin in a few minutes and asks attendees to silence electronic devices.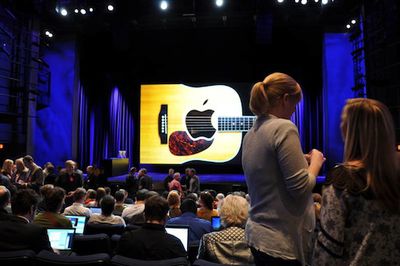 - Steve Jobs on stage, points out "partner in crime" Steve Wozniak in the audience. Thanks audience for coming. "Really cool stuff" to show you.
- Apple retail update: Showing off new stores in Paris, Shanghai, Covent Garden (London). Now 300 stores in ten countries with Spain coming soon. Some days see over 1 million visitors to retail stores. 80,000 One to One classes per week. Over half of Mac purchasers in retail stores are new to Mac.
- iOS update: Have now shipped 120 million iOS devices. Activating 230,000 new iOS devices per day. We think some of our friends are counting upgrades in their numbers, but we think strictly new activations is a better metric. Over 6.5 billion app downloads, 200 per second. 250,000 apps in App Store - 25,000 for iPad.
- Introducing iOS 4.1: Fixes bugs (proximity, Bluetooth, iPhone 3G performance), Adds High Dynamic Range (HDR) photos, HD video upload over Wi-Fi, TV show rentals, Game Center
- Showing off HDR photo quality. Both regular and HDR photos saved on device...choose which you prefer. Showing examples of how HDR can pull out details that are typically washed out.
- Game Center: Standalone app, as well as APIs for developers. For multi-player games, allows you to challenge friends. Showing off screenshots.
- Mike Capps of Epic Games on stage to show off Game Center on new iOS RPG game codenamed "Project Sword". Showing off 3D virtual world in high detail. Showing Game Center-mediated multi-player action.
- iOS 4.1 due next week for iPhone and iPod touch
- Sneak peek at iOS 4.2 - "all about iPad". Brings everything to iPad....multitasking, folders, Game Center, HDR photos, wireless printing, AirPlay
- Showing off wireless printing in Pages. "Print Center" app now shows up in multi-tasking tray to manage jobs.
- AirPlay: Formerly known as AirTunes, now allows streaming of audio, video, and photos.
- Demoing iOS 4.2 on iPad with multitasking, folders
- iOS 4.2 set for November release. Free for iPad, iPhone, and iPod touch.
- iPods: "Our entree" for the day. We've sold 275 million iPods. All-new designs for every model of iPod this year. Biggest change ever.
- iPod shuffle: Highlighting history of the device. New model now has buttons, VoiceOver, and playlists, rear clip. 15 hours of music, five different colors, $49 for 2 GB.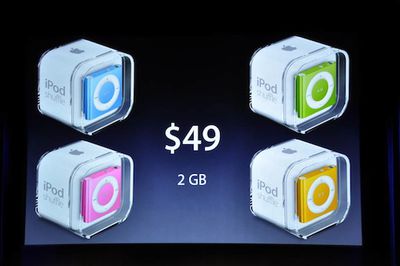 - iPod nano: Multi-touch screen, clip, 46% smaller, 42% lighter, volume buttons, Nike+, pedometer, 24 hours of audio. Now demoing controls.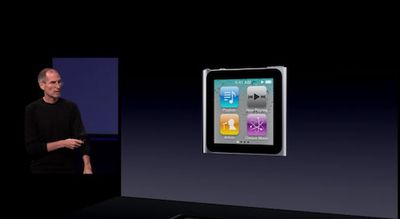 - iOS-like interface with four icons on home screen, multiple home screens with ability to reorganize icons. Album art, photos, etc. Rotatable home screen using pinch gesture.
- Same colors as shuffle, plus graphite and Product RED. $149 for 8 GB, $179 for 16 GB.
- iPod touch: In the last year, has become most popular iPod. "iPhone without the phone, and the contract". #1 portable game player...outsells Nintendo and Sony combined.
- New iPod touch is even thinner, Retina display, A4 chip, gyroscope, iOS 4.1, front-facing camera with FaceTime, rear-facing camera with HD video recording.
- Can run iMovie on iPod touch, can FaceTime between iPod touches and iPhone 4s.
- Three models: 8 GB $229, 32 GB $299, 64 GB $399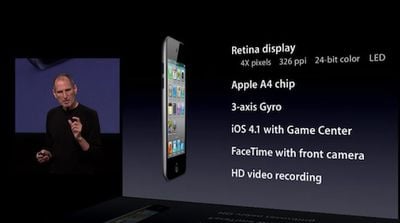 - All iPod models (shuffle, nano, touch) available for pre-order today, shipping next week.
- Now showing new iPod nano and iPod touch ads
- iTunes: 11.7 billion songs downloaded, 450 million TV episodes, 100 million movies, 35 million books, 160 million accounts with credit cards. #1 online media store in the world.
- iTunes 10. With iTunes set to surpass physical CD sales next year, so new icon with no CD.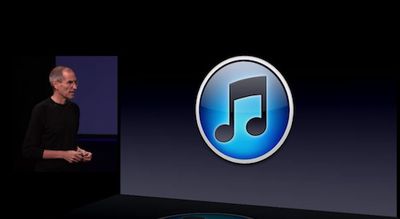 - New "hybrid" view. With albums of at least five songs, now shows album art right in list view.
- Social features: New feature called Ping. Facebook and Twitter meet iTunes...social network for music. Follow favorite artists and friends, find out what they're listening to and talking about. Customized top-ten songs and albums lists based on the people you follow. Showing off artist page for Lady Gaga with posts, favorite songs, concerts, etc.
- Discussing how to be followed: can allow anyone to follow, can have approved followers, create "circle of friends"...as private or public as you want.
- Demo of Ping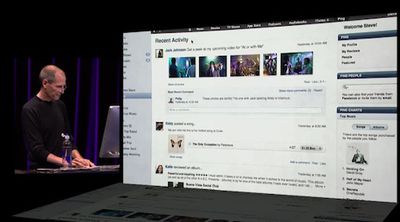 - Ping available in iTunes and on iPhone, iPod touch...new button in iTunes Store app.
- iTunes 10 available today...free download at apple.com
- One more thing...no, one more hobby.
- Apple TV: Never been a huge hit, but no one has made a hit in this sector. Users love the Apple TV though, so what have we learned?
- Users want Hollywood movies and TV shows whenever they want them, everything in HD, lower prices, no computer on the TV. Don't want to manage storage or deal with syncing. Want hardware to be silent, cool, and small.
- New Apple TV...one-fourth the size of the previous model. Back has power cord, one HDMI connector, optical audio out, and Ethernet. Wi-Fi 802.11n built-in.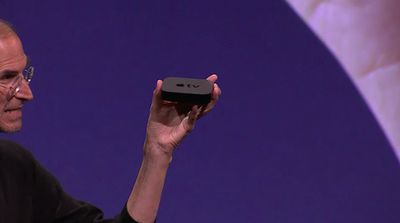 - Movies, TV show, and music, all HD when available. All rentals, no purchases, so no storage management. Can stream from computers, no syncing required. Photo slideshows.
- Can rent first-run HD movies for $4.99. Prices drop over time. HD TV show rentals at $0.99...commercial-free. Big step for the studios, so ABC and Fox at first. Rest of them will see the light and follow along.
- Netflix streaming included for subscribers. YouTube integration, including HD content, photos from Flickr, video and photos from MobileMe, stream from Mac or PC.
- Apple TV interface similar to existing, but simplified somewhat.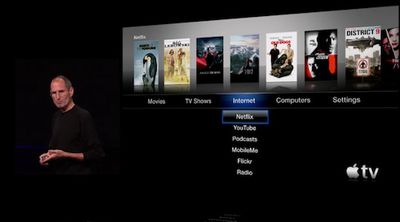 - Demoing browsing and rental process...showing off "Iron Man 2".
- TV shows: Can list favorite shows, with icons showing how many unwatched episodes from the current season there are. Showing off "Glee".
- Netflix: Showing Instant Queue..."by far the best implementation of Netflix".
- Demoing streaming photos from a networked Mac.
- AirPlay coming to iOS 4.2 in November. Can stream content from an iOS device to an Apple TV. Demoing streaming Pixar's "Up" from iPad to Apple TV...audio is quickly and easily pushed to the Apple TV.
- New Apple TV priced at $99. Available in 4 weeks, pre-order today.
- Recapping today's topics: iPod shuffle, iPod nano, iPod touch, iTunes 10 with Ping, iOS 4.2, Apple TV
- Talking about philosophy of music focus. A lot of people at Apple love music, and we like to remind ourselves of why we do this. Special guest: Chris Martin of Coldplay. 50 million albums sold, 7 Grammy Awards. On stage to play a song. "We'll keep goin' until you feel like lunch."
- End of event.