Next-Generation iPod Touch to Be 'Slightly Thinner' Than Current Models?
iLounge offers a number of details regarding the fourth-generation iPod touch rumored for introduction today that it believes to be correct. While much of the information regarding the physical features of the device is essentially the same as that detailed in an earlier report and supported by leaked case designs, one new detail is a claim that the device is actually even thinner than the current iPod touch models.
It is slightly thinner than the second- and third-generation iPod touch. The rear casing has corner and side radiuses that are, as we previously noted, MacBook Pro lid-like, and the center does not bulge, so it can rest flat on a table like the first-generation iPod touch. What used to be a soft curve of the rear shell that wrapped around to surround the front glass is gone.
The current iPod touch measures in at 0.33 inches deep at its thickest point, while the iPhone 4 is essentially of uniform thickness at 0.37 inches. There have been questions about how Apple might be able to fit a high-quality rear-facing camera into the existing iPod touch form factor given the depth of the camera modules used in devices like the iPhone 3GS and 4. While we still do not know the spec of the next-generation iPod touch's camera, Apple seems to have found away to squeeze a camera in while reducing thickness even further.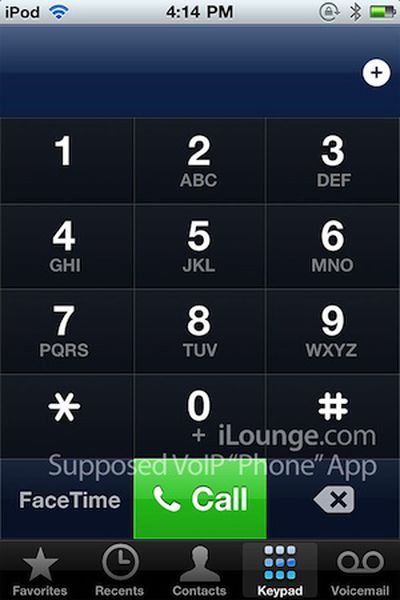 Questionable screenshot of purported VoIP application for next-generation iPod touch
iLounge
also shares some unconfirmed claims from an "untested" source regarding a possible
3G-enabled
version of the iPod touch. Another claim suggests that Apple will deploy a VoIP application to allow for calling on the iPod touch, although the source's screenshots supporting the claim appear to have been Photoshopped. Consequently, these claims should be considered unreliable but obviously of interest.